MilesWeb Review – Pros of Being Reseller Web Host
---
Many web servers across the hosting market provide reseller hosting. In a reseller hosting account, you get a certain amount of server space and resources. The plans can then be divided and marketed as individual accounts to various people.
The reseller web host buys the hosting space in bulk and divides it into distinct packages/plans for each customer. The reseller account even lets the reseller apply their own personalized branding to the bundle while concealing the original host's identity, referred to as white label reseller hosting.
The purpose of reseller hosting is to give personalized web hosting services to clients, as well as service and support from the reseller.
Web hosting is essential for every organization that wants to have a presence on the internet. Reseller, shared, domain hosting Singapore and dedicated hosting is the three major categories of hosting.
Reseller hosting is a type of hosting service that allows account holders to resell web hosting services. The reseller can offer bandwidth and storage space from the rented server. It is the most cost-effective way to host websites on the internet.
Reseller hosting is one of today's most popular hosting alternatives, and it's all about flexibility, cost, and dependability. It enables the maintenance and creation of small businesses, as well as the generating of money.
What is Reseller Hosting?
Reseller hosting is a service offered by a web hosting company that allows an individual or a company to resell web hosting services as their own. The majority of cheap reseller hosting solutions operate on a regular discount basis. You join up with a reputable host, create a reseller account to gain access to discount pricing, add your own branding if you want, and then resell web hosting at a profit. You may typically set your own pricing and terms as long as you operate within the host's terms. You are then free to function as you see appropriate.
The benefit of using reseller hosting is that you do not have to maintain the infrastructure or software yourself. Good web hosts have the software already installed with particular reseller packages that can make quick work of setting everything up, and MilesWeb Hosting comes with cPanel and WHM pre-installed. You would only need to set up an account for each new client.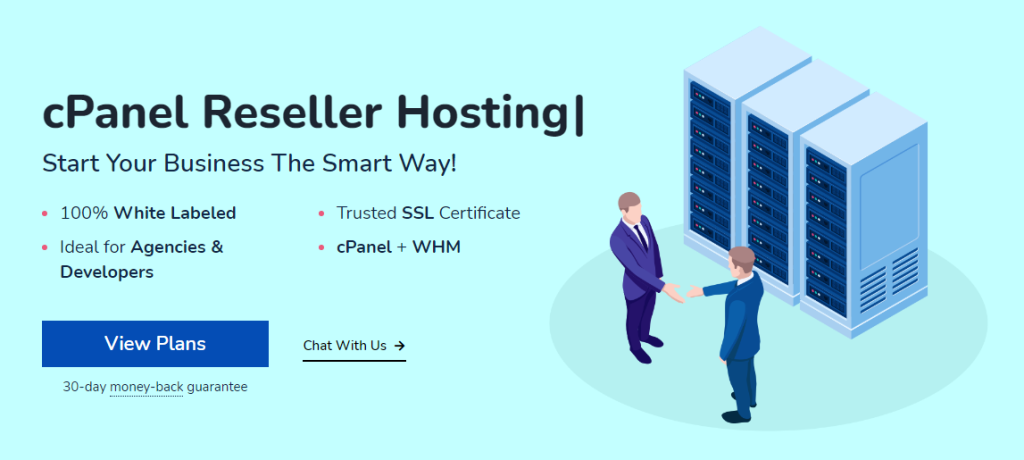 It is then simply a question of creating a new account, deciding how much disc space or bandwidth you wish to allocate, and moving from there.
Some web providers will charge a monthly flat price as well as a service fee. Some will not offer a set cost but instead, charge on a pay-as-you-go basis.
Let's Have a Look at the Best Reseller Web Host: MilesWeb
MilesWeb is one of the best Indian web hosts offering the best hosting plans and prices at the most affordable cost. The company offers a 99.99% uptime guarantee, 30-day money-back guarantee, and 24×7 customer support. MilesWeb is trusted by 39032 clients globally.
Pros of Getting the Reseller Hosting Plans from MilesWeb
All the MilesWeb's Reseller Hosting Plans are Inexpensive
MilesWeb's hosting packages provide an end number of resources while keeping expenses low. You are purchasing services at a lower cost from MilesWeb compared to other hosts. Additionally, you have to invest without any expensive servers like dedicated servers. Furthermore, you do not have to hire highly paid specialists to handle server jobs, because MilesWeb will take care of all these needs.
The company offers Micro, Startup, Grow and Expand plans under the reseller hosting type. The Micro plan costs you Rs. 396/mo, the Startup plan costs you Rs. 704/mo, the Grow plan costs you Rs. 1, 320/mo, and the Expand plan costs you Rs. 1, 936/mo.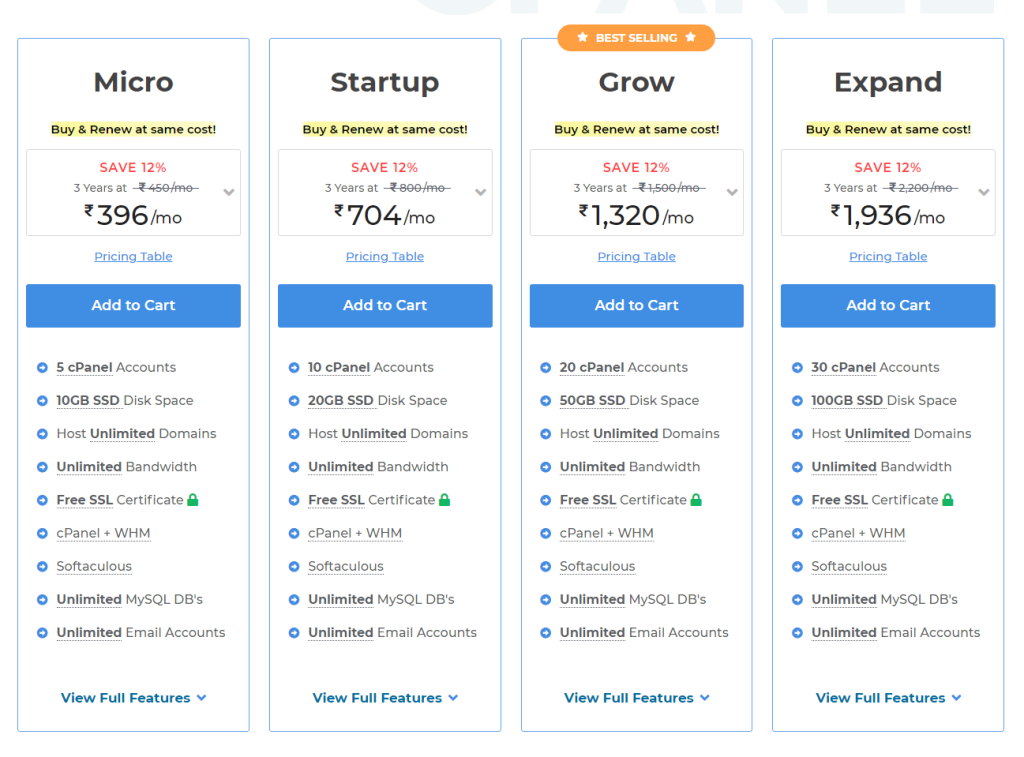 MilesWeb offers Complete Server Control
Controlling disc space consumption is possible with MilesWeb's reseller plans, letting you oversee and manage all elements of your website. It also provides you with the benefits of extra room at a reasonable cost and easy maintenance. Additional features include bandwidth limitations, improved disc storage control, and so forth. Businesses can benefit from this since they can have their sites online when needed without sacrificing disc space.
24×7 Customer Support
When you resale through MilesWeb, all of the 'under the hood' responsibilities related to servers and security are handled by MilesWeb's support staff.
Server upgrades, security, mail server setup, and network availability are all handled by MilesWeb's expert support staff. If you have any questions, you may also contact the support staff anytime you want.
Money-back Guarantee for 30 days
MilesWeb offers a 30-day money-back guarantee on all the reseller hosting plans. If you are doubtful about the plans or services, you can ask for a refund within 30-days of the plan subscription.
99.95% Uptime Guarantee
MilesWeb offers the best uptime guarantee on all web hosting plans. MilesWeb understands that the availability of your website is a top priority for you. Their Tier-3 and Tier-4 data centers offer you the highest level of uptime.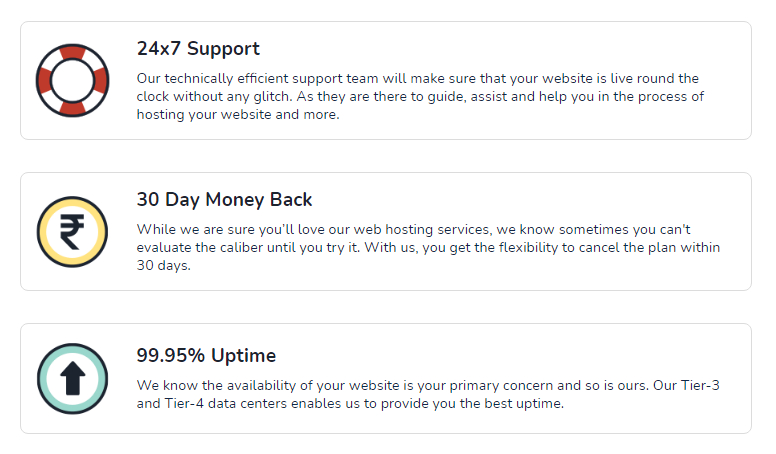 Unlimited Website Hosting
You can create a certain number of cPanel accounts with each Linux reseller hosting plan. Multiple domains can be hosted in a single cPanel account. There are no limits to the number of Sub-domains and Add-on Domains that you can add to a single cPanel account.
Completely White Labeled
MilesWeb doesn't want to be a barrier between you and your clients, which is why you receive a completely white-labeled hosting service with all resale packages. The whole white label solution hides your merchant firm from your clients, allowing you to sell the items under your own brand name.
Web Host Administrator (WHM)
You can operate a few popular and resource-intensive sites, as well as a large number of lesser sites, using cPanel's master administration tool – WHM. WHM also allows you to establish and administer numerous cPanel accounts, each with an infinite number of websites, emails, and other features.
Installer in One Click
MilesWeb's Softaculous' one-click installer allows you to install over 400 software, including WordPress, Joomla, and Drupal, in only a few clicks. These programs may be installed by you and your clients in a matter of seconds.
Control Panel for cPanel
Make the most of the cPanel by offering it to your clients so they can manage their emails, domains, and websites from a web-based interface. You have the ability to monitor the use of your disc space and bandwidth, as well as suspend, unsuspend, and cancel your clients' accounts.
Reseller hosting is an engaging business strategy since it provides so much flexibility in its implementation. Because of the low barrier to entry, eCommerce pioneers are putting this revolutionary web hosting technology to use in a variety of ways.
MilesWeb's reseller hosting is undoubtedly drawing a wide range of clients.
---