Hosting.co.uk Review 2020
---
[eafl id="19815″ name="Hosting UK" text="Hosting.co.uk"] is a market-leading web hosting company, with servers based in the UK. The company was first founded back in 2012, but it's since gone on to become one of the largest UK-based hosting companies around.

The company prides itself on a mission to provide a top of the range product, suited to its clients' wide range of different needs. In doing so, the hosting provider is able to offer an affordable solution to hosting requirements, with no unnecessary extras adding to those all-important bills. 
Hosting.co.uk cites its top benefits as its secure, low-cost East Midlands location, its large, strong and secure network, accessible and helpful customer support and its dual diesel generators and UPS.
We decided to delve deeper into what the hosting provider offers, to bring you the inside scoop on how hosting.co.uk works, and what it could do for your company. 
Hosting.co.uk prices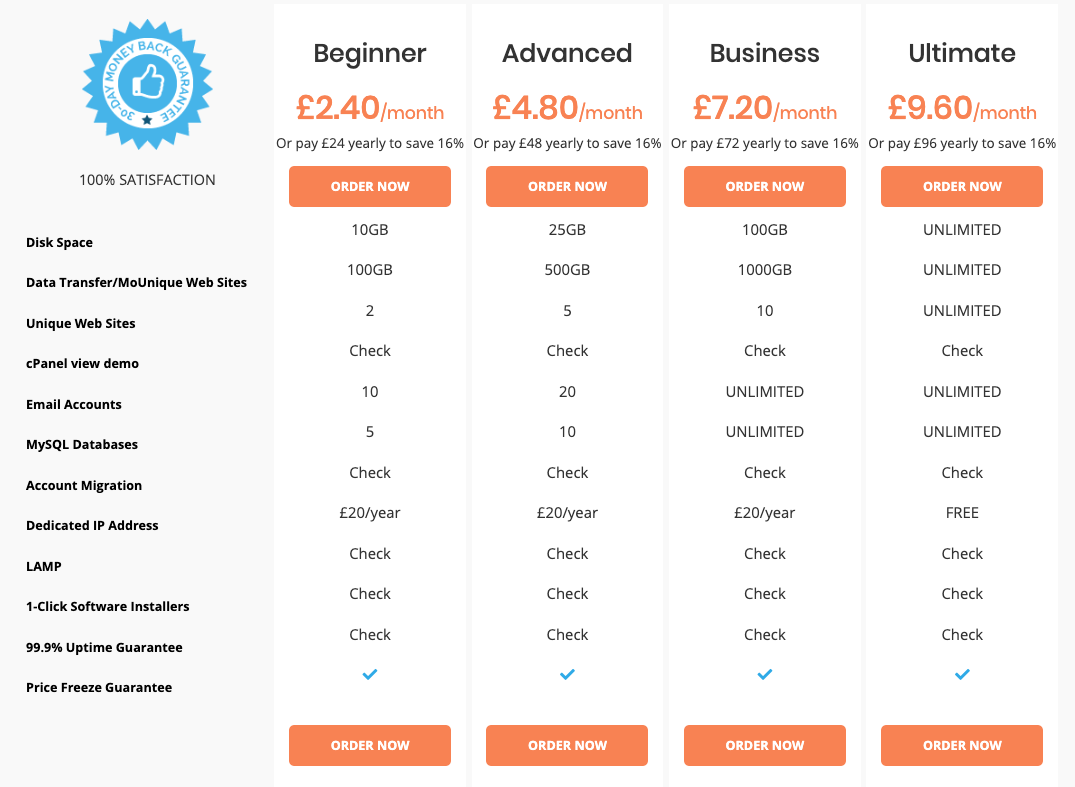 [eafl id="19817″ name="UK Hosting – Web Hosting" text="Web Hosting"]: Starting at £2.00/month
[eafl id="19818″ name="UK Hosting – WordPress" text="Wordpress Hosting"]: Starting at £24.00/year
[eafl id="19819″ name="Uk Hosting – Reseller" text="Reseller Hosting"]: Starting at £6.00/month
[eafl id="19820″ name="UK Hosting – VPS" text="VPS Hosting"]: Starting at £9.95/month
[eafl id="19821″ name="UK Hosting – Cloud Services" text="Cloud Services"]: Starting at £2.40/month
Pros and Cons 
Pros
Unmatched customer service: Hosting.co.uk provides 24/7 customer support available all year round, and the team couldn't be more helpful. 
Lightning-fast speeds: The company's tier 3+ Midlands data centre provides some of the quickest speeds around, and it's ideal for users from across the UK, Europe and the rest of the world.
Eco-friendly option: Hosting.co.uk is a green web hosting provider, with a power-efficient data centre and a PUE below 1.3. 
Cons
Packages: Hosting.co.uk focuses on the web hosting service that clients really need, but those looking for more complete packages with plenty of extras might be disappointed. 
Location: Hosting.co.uk is perfect for UK-based companies, or companies searching for UK-based servers. However, it doesn't have servers in other locations across the globe which could be problematic for some. 
Hosting.co.uk specifications 
Ease of use: Hosting.co.uk is incredibly easy to use, with a simple set up process and a helpful team on hand to guide you through it. 
Domain names: The service offers domain name registration, making life simple for those who are new to web hosting.

Email addresses: With hosting.co.uk, you can set up your own email addresses linked to your chosen domain name.

Databases: Choose from a range of options. Hosting.co.uk plans start at up to five databases, going up to unlimited databases for premium plans. 
Applications: You can install WordPress, Joomla, Drupal and over 200 web applications with Hosting.co.uk's plans. Installation is fast, and you definitely don't need to be an IT wizard to install your chosen applications. 
Webspace limit: Choose the ultimate plan and your webspace is unlimited. The world really is your oyster!

Data transfer limit: Beginner plans offer data transfer limits of 100GB, but if you need more opt for an ultimate plan, which has no limit at all. 
Where are the servers: Hosting.co.uk's servers are based in the UK. 
Server speed: We were impressed with the speed of the servers – they're just as fast as Hosting.co.uk says they are! 
Server availability: Plans offer a 99.9% uptime guarantee – music to our ears. 
Money-back guarantees: All hosting plans come with a 30-day money-back guarantee. 
Support: There's a customer support team available offering 24/7 help. 
Final thoughts
Hosting.co.uk is a hosting provider that's attracting plenty of attention at the moment. Our review team were impressed by the speeds that this service provides, not to mention its 99.9% uptime guarantee. There's a good range of different packages to choose from, offering plenty of options for all kinds of hosting requirements. Try Hosting.co.uk out for yourself – they're even offering a 30-day money-back guarantee on all web hosting plans right now.
---