Cornerstone Content – Benefits & SEO Tips
---
Content is King!
I'm sure you have heard this phrase plenty of times, and when it comes to increasing your website audience, it certainly holds true.
There are several ways to increase organic traffic to your website. And one of them is by creating epic cornerstone content. 
In this post, I'm going to tell you what is cornerstone content, its benefits, and SEO tips for cornerstone pages.
So let's dive in and look at what it means.
What is Cornerstone Content?
As the name implies, cornerstone content connects to different pieces of your website. It helps to promote your other posts or pages and is considered as your site's core content.
It is the gateway for your audience to discover your website. It is equipped with all the information your readers need to know and helps you rank your site higher on search engines. 
It can include the essential articles, pages, posts, case studies, and other forms of content on your site. Cornerstone content is considered a critical part of your content marketing strategy.
Also known as pillar content, it focuses on delivering complete information on a specific topic rather than a scripted sales pitch. 
Cornerstone content comprises in-depth content and links your audience to the inner pages or posts. 
According to various sources, the content of the pages should be 1000 words minimum. More extended and more in-depth the article, the more questions it will answer.
Now let's take a look at its benefits.  
Benefits of Cornerstone Content
SEO is crucial for startups to rank their website smartly, and Cornerstone pages definitely help. 
Attracts More Visitors
Cornerstone content helps to answer most of the queries your visitors may have. It will help your site rank high on search engine results and enable you to create an immense flow of traffic into the top of your sites' marketing funnel.
More Subscribers
People love content that is relatable or adds value to their routine lives. If you provide your visitors with what they are looking for, they will be happy to subscribe and revisit your website frequently.
Cornerstone content aims to provide answers to various queries your audience may have, resulting in increased subscribers.
Easy to Understand Structure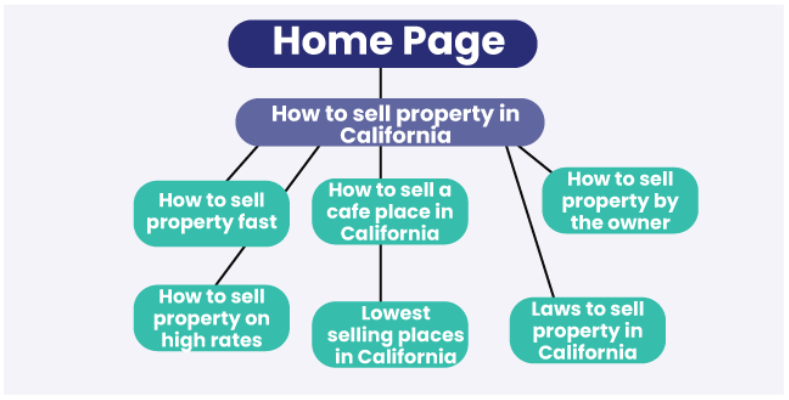 This type of content is the core content of your website, which links to different topics or pages. From this content, users can visit other pages they might be interested in. 
In the structure above, the posts in green are linked to the cornerstone page: "How to sell property in California."
Helps to Capture Backlinks
The more comprehensive and informative your pages are, the more chances you will have of getting backlinks to them. Cornerstone content is quite effective in being an attraction for other sources to link to. The more you promote your pillar posts, the more backlinks you will generate.
Higher Google Ranking
If your craft your pillar content wisely, it will serve as a guide for your visitors, which in-turn will be shareable and easy to rank on Google.
SEO Tips for Cornerstone Content?
Select Cornerstone Pages Based on Ranking
For cornerstone pages, remember that you must not use the first post or article you can think of. Do extensive research. Select the ones, which are optimized for keywords.
If the content is not optimized, you can rewrite it and make it SEO friendly. Make the content feel as fresh as possible.
Target Important Keywords
In a way, cornerstone content is like an introduction to the other content of your website. Your keywords should be basic and competitive. 
Most of your website's content should fall under this pillar content, so you can use it to improve your ranking and get more inbound traffic.
Keywords are crucial. You should consider including the most competitive keywords in your cornerstone posts, and then add long-tail keywords to all your remaining content.
Optimize Content for a Generic Audience
As pillar content is the core of your website, making it SEO friendly is of utmost priority. Also, as this type of content is usually lengthy, you should try to make it easy to read for a general audience. 
Make sure that your content has many headings. Add keywords and optimize your content frequently. 
Link your Homepage to your CornerStone Pages
You should try linking out to your cornerstone pages from the main area of your homepage, rather than from sidebar or footers. Elements that appear on every single page are less valuable in the eyes of Google.
Link Back To Cornerstone Content
The posts your cornerstone content links to should also link back to your cornerstone content. It will help you tell Google that your cornerstone page or post is the most important one on your website.
Conclusion
Creating content that stands out is critical. Hard work is essential, but working smartly is more effective. So, you need to use your resources wisely.
Whenever you are writing content for your website, your focus should be on; how will it help your website rank higher, and also, which keywords are of the utmost importance. 
Remember, cornerstone content is published on your website, not on social media or other platforms. You should also update, optimize, and review it regularly, so it doesn't lose its value.
Author – Amos Struck
---