CloudApp Screen Recording Review
---
CloudApp is a visual communication tool built to enhance your team's productivity. Far-flung team members can capture or record their screen and share it instantly with others, no matter the distance.
Driven by the "new normal" of working remotely, modern teams are quickly shifting to a more visual, tech-driven work mode. They seek to replace email with images and videos as the default way of inter-team communication. More than four million users are already making the switch. Let's go through the features by the numbers.
CloudApp's video annotation is the most recent update featured on Product Hunt, making it the #1 Product of the Day. There's already software out there that lets you annotate videos after the fact, but annotating video while you are recording is the equivalent to patching a tire while you are riding a bike.
Video annotation includes the ability to use arrows, lines, or shapes. You can customize the color and whether your additions fade out over a period of one to four seconds. You also can free draw; so feel free to doodle your heart out, creative-types. Lastly, you can pre-set how long an annotation will stay on your screen. The CloudApp team keeps the UI clean by judiciously selecting only the features with the most compelling use cases, this means your toolbar isn't clunky or crowding your screen with a bunch of features you'll never use.
The use cases in which you can use CloudApp are varied. One option is to combine video annotation with the window-in-window webcam video mode to provide additional context when explaining a more complex idea. Luckily, highlighting information or making quick illustrations is also simple and intuitive with CloudApp's video annotation tool. Because you can record your screen, face, and voice at the same time, CloudApp can actually serve as a complement to Zoom calls. If your team is experiencing online meeting fatigue, consider occasionally sending a CloudApp instead.
Caption: CloudApp's new video annotation feature allows you to comment and write directly on your screen while recording
CloudApp's annotated video recordings have the same sharing options as other CloudApp files and are effortless to share becauseCloudApp automatically copies a shareable link to your clipboard. So go ahead, skip that meeting and start sending better communications to your team with annotated videos.
CloudApp's Image Capture Tool
If you're still using the screenshot tool that came with your device, it's time to upgrade. CloudApp features extend beyond your standard single-player snipping tool. In addition to annotated video recordings, CloudApp's annotation features also work for screen captures. It's easy to unlock the full potential of a screenshot with CloudApp's powerful image capture and editing tools.
After taking a screenshot, the image immediately appears on your screen in the CloudApp editor. There, you can add arrows, emojis, or text with a few clicks. You can also use a pen or highlight tool in any color or use the blur tool on sensitive or irrelevant content. With one of the latest updates, CloudApp now allows you to choose from numerous different font options to make your annotated screengrabs consistent with your brand.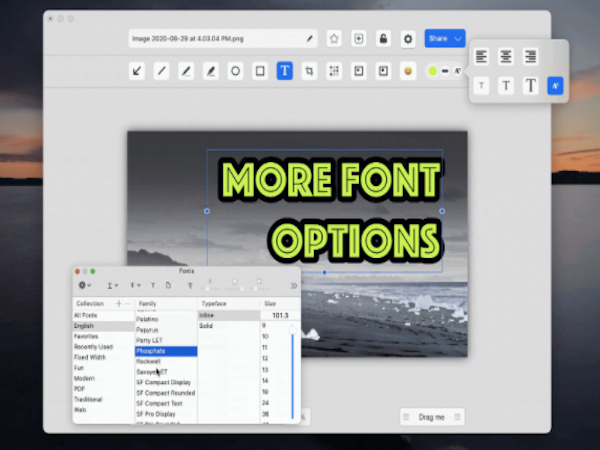 Caption: CloudApp now allows you to choose from numerous different font options to make your screengrabs consistent with your brand.
Once you're finished editing, CloudApp automatically stores your creations in the cloud for easy sharing. You can drag and drop from your share window into a customer chat window, an email, or just about anywhere. You can also send the shareable link that becomes immediately available after you've saved your image.
Once you have shared your content, viewers can comment directly when they click the shareable link. This means you can chat right alongside your content about web page edits, how to fix a software bug, and much more. Oftentimes, people can leave feedback on many different channels, which can be especially true the larger your team is. At any one moment, you might be getting feedback through email, Slack, and Asana at the same time. CloudApp can help you keep the conversation going without missing anything. Any time a user comments on the content, the owner and anyone else in the thread are notified.
You also have the opportunity to add creations to collections or your favorites, with the option to share a link to the entire collection. For instance, say you have created a series of walkthrough tutorials to use your product or service, with this feature, you can compile them all into one neat collection to send to clients. A nice bonus is that each download of CloudApp comes with a collection on how to use CloudApp for those who might not have used the product before.
Screen Recording Software Features
Whether you're feeling too lazy to type out that long email or looking for a way to speed up your workflow, CloudApp's video recording software can help. Using this tool means being able to get your ideas across without having to exchange long emails or complicated descriptions. Screen recordings are also very engaging and can be quickly consumed and understood.
By sending a clear video, people can see your intent and tone. Recording your screen is a simple way to save time and increase effectiveness in your communications. But, it's imperative you choose a screen recording tool that makes it straightforward to create and share content. CloudApp's screen recording tool is simple to use and yet has all the features you need. You can get started with just a few clicks and use the simple yet powerful editor to make polished recordings effortlessly.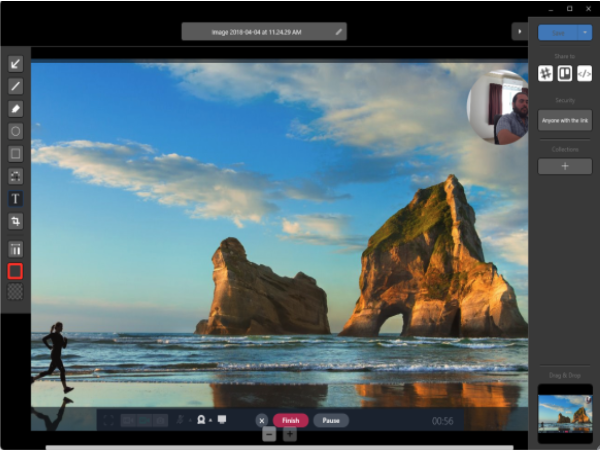 Caption: CloudApp's video editor is simple to use, yet has all the features you need to effortlessly make a polished video.
As I've mentioned previously, the CloudApp screen recorder gives you the option to record your entire screen or only a portion. You can also use the window-in-window webcam option so your viewers can see your face when speaking. Additionally, you always have the option to add only audio from your device's microphone. If you want to use the same settings consistently, like recording the same part of your screen every time, just press enter. CloudApp will save your settings from your last recording as a default.
With the shift towards remote working, the modern office doesn't have four walls or even one time zone. Trying to coordinate a meeting time with clients or teammates spread across different time zones can be near impossible. Instead, CloudApp can help you save time by leveraging asynchronous communication with a simple video. Whether you're providing your team with a walkthrough, talking through a presentation, or sending a client a personalized welcome message, you can keep it clear, quick, and easy with CloudApp.
Since your recordings are always stored in the cloud, it means no time is wasted uploading your videos. Your recipient will also save time since they can view them directly in the cloud without downloading. You have the option to drag and drop your screen recordings into a chat window, email, or even embed them into your website. Or, you can simply send the shareable link that is instantly copied to your clipboard once you're done recording.
CloudApp for Mac, Windows, Linux, iOS, and Chrome
While CloudApp is most commonly known for its screenshot on mac capabilities, CloudApp is currently available as a Chrome extension, iOS native app, or as a desktop app for Windows, Mac, or Linux. That means no matter what devices you and your team use, CloudApp is available. It also means your CloudApp creations are available on all of your various devices. Whether you're jumping between work and personal computers or from desktop to mobile, you can sign in to your CloudApp account and create or share content.
You should also keep in mind that the Chrome extension and desktop version share the same fundamental functions. However, the desktop versions have a few advanced features, such as GIF creation and HD-quality video recordings. All desktop versions also have the capabilities for delayed screenshots, which is nice.
CloudApp Integrates With the Software You're Already Using
CloudApp integrates with the software you and your team are already using. From project management to sales to design and development tools, CloudApp can help streamline your communications. Thanks to CloudApp's numerous integrations, you can drop your creations just about anywhere including a Google Doc, Asana, Microsoft Teams, just to name a few..
Creating task descriptions in your project management software is a breeze with CloudApp. Instead of typing out a long task description in Asana or Jira, drag and drop an annotated screenshot or recording. It's an easy way to add depth to your projects and tasks.
CloudApp creations can also help you create richer content online with its integration with WordPress CMS. You can bring webpages to life with bright, clear, and simple visual content. It's as easy as adding the CloudApp plugin for WordPress, then embedding your visuals from CloudApp. Your FAQ sections, help articles, blog posts, and online marketing materials just got more engaging and visually appealing.
Designers who use Sketch also love CloudApp. With only a simple plugin you can use CloudApp to simplify collaboration and communication. Additionally, your team won't waste time waiting for downloads, exports, or uploads to load. Designers appreciate CloudApp's integration with Adobe Xd. Instead of typing long, confusing bodies of text, simply take a screenshot or record a video and show your recipient what you mean. It's a great way to share visual feedback and encourage collaboration. CloudApp for Adobe XD can be found in the Adobe XD Marketplace.
Whether your team works in-office or spans across many time zones, CloudApp can help you streamline your workflows and improve your collaboration. If you're ready to transform the way you communicate with others, you can get started with CloudApp for free today with a simple download.
---