ClickAdilla Ad Network Review – High-Technology Self Serve Ad Network
Introduction
There are a lot of ad networks to choose from, and it can be hard to know which is right for your business.
Ad networks differ from each other. Some are good for small businesses, while others are better for larger companies. And some ad networks specialize in certain types of advertising, like mobile or video ads, push, native or popunder formats.
ClickAdilla Ad Network provides almost all possible ad formats. It is the perfect solution for your business. With a lot of experience serving small businesses and highly successful advertisers and publishers, ClickAdilla has the expertise and technology you need to reach your marketing goals.
Let us check out ClickAdilla in a little more detail.
What is ClickAdilla?
ClickAdilla is an international self-service ad network platform headquartered in Dublin, Ireland. It is a turnkey solution that enables marketers to build, manage, and optimize their campaigns. The platform provides more than 4,5 billion of everyday traffic. The majority of its traffic is adult.
ClickAdilla also offers tools to help advertisers optimize their return on investment, including advanced targeting options and bid management capabilities. In addition, ClickAdilla provides advertisers with a self-service platform that enables them to launch ad campaigns within a few clicks, manage their traffic stock, and evaluate performance data.
The main features of ClickAdilla:
13 Ad Formats
11 payment methods
Adult and Mainstream Traffic
Fast campaign moderation
Intuitive and user-friendly interface
Huge traffic volume: more than 4,5 B everyday
Traffic sources of ClickAdilla are in the top of Alexa Rankings
ClickAdilla – Supported Ad Formats
There are 13 ad formats available in ClickAdilla:
Popunder
Banner
Web-Push
Interstitial
In-App
In-page
In-Stream
Video Slider
Out-Stream
Notification Vidget
Native Ad
Tab Direct Link
Gallery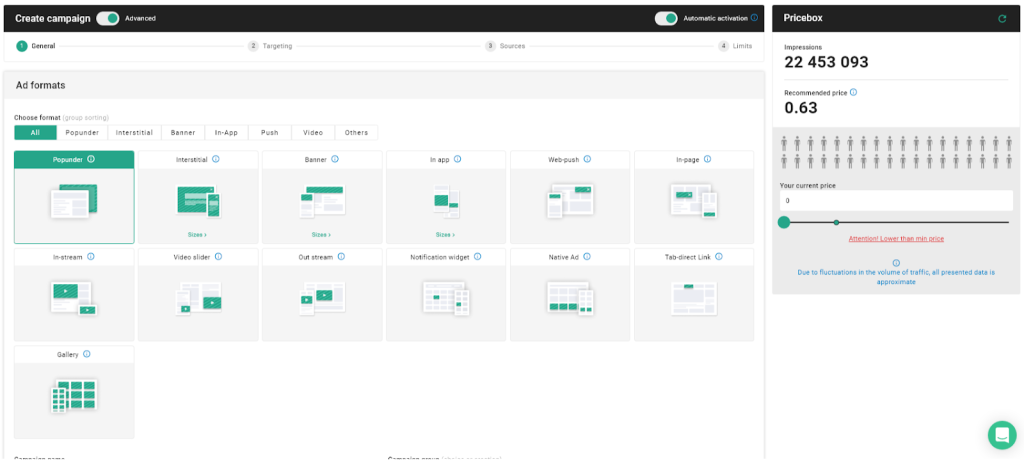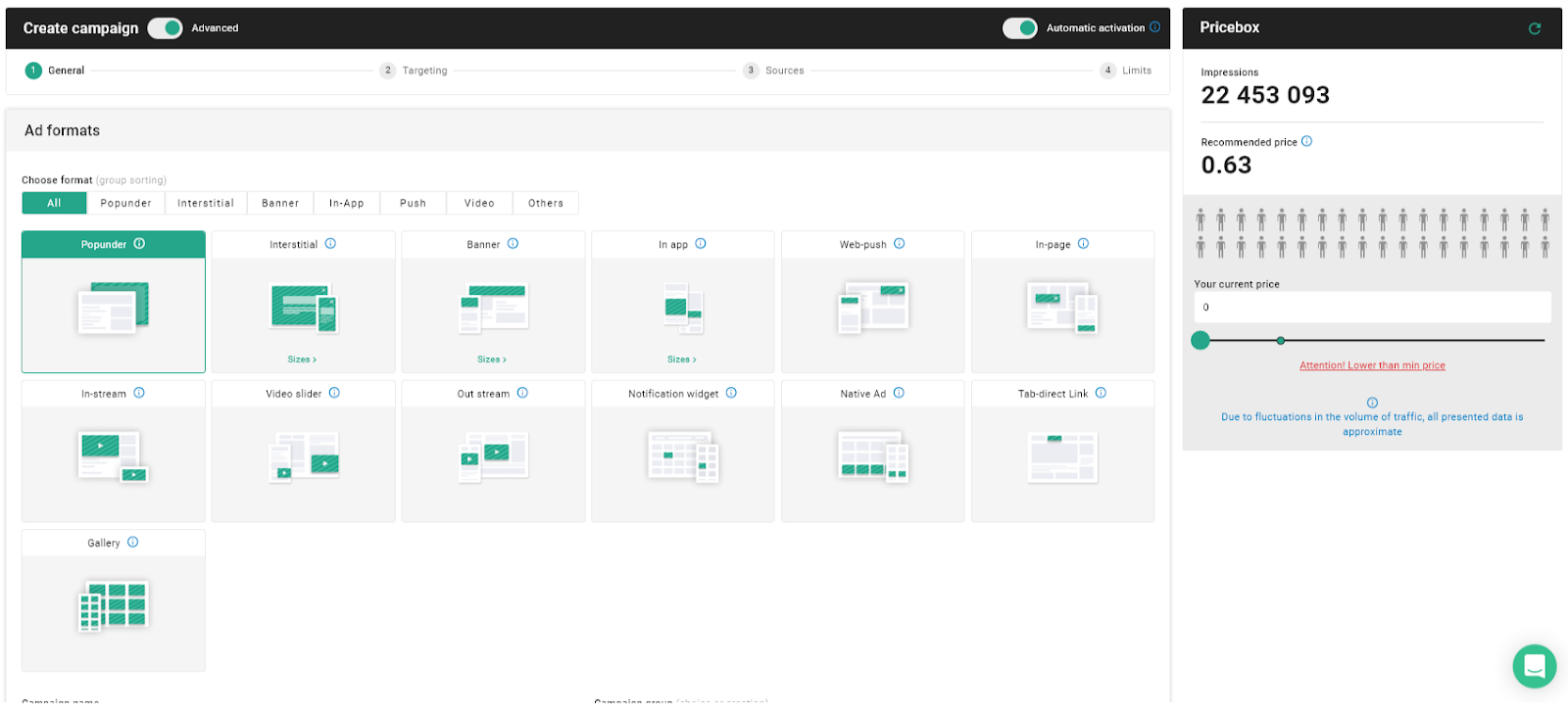 Let's observe some of them:
Popunder Ads
There is an impressive volume of traffic in popunder format in ClickAdilla: more than 22 450 000 impressions are available per day. The approximate price for 1,000 views is around $0.63.
Popunder is an additional window that appears when the user first clicks on the page's content. It is one of the finest techniques to get a user's attention! They provide user-friendly mobile and desktop apps that adhere to all Google specifications. A new browser window appears when a user clicks anywhere on the website. The user cannot see the page since the main page remains open.
Popunders ads can be used in different verticals, but we recommend dating, webcams and gambling for better conversions.
Banner Ads:
Banner Ads is one of the traditional and most popular formats in ClickAdilla. The platforms provides 7 types of banners: 160×600, 300×100, 300×250, 300×600, 315×300, 728×90, 900×250.
ClickAdilla has a great amount of banner traffic: more than 1 560 000 000 views daily. The bid for 1,000 impressions is approximately $0.052. In comparison to other networks this is a genuinely low price for the traffic volume the network has.
Banners are suitable for almost all verticals. This is a multipurpose tool.
Web Push Ads:
WebPush ads in ClickAdilla are one of the highest quality in the industry. The amount of clicks you can get everyday is around 315 000. The minimum price for 1 click is only $0.0084.
Web push is a well-known format in internet advertising. They have a database of over 65 million subscribers obtained straight from the sources of their exclusive partner. Web push will be shown even when the user is not on the website.
Web Push Format is great for advertising in most verticals. For dating offers web push can easily imitate message notification, for the utilities vertical – web push can look like a system warning.
In-stream Video Ads:
ClickAdilla provides a high-quality in-stream ad format. You can get more than 28 880 000 views daily and pay only $0.05 for 1,000 impressions in ClickAdilla. One of the winning features of in-stream is that a user cannot skip the ads for a certain time period. So it has a 100% viewability. Moreover, in-stream is highly engaging – the video ad is able to interest the prospective client and immerse in the process of your advertised product.
In-stream advertising is one of the newest and most popular advertising types. People interested in the content will see your advertisement, which is placed in the beggining or in the end of the main video content. They provide both VAST and direct connections so that you may put your in-stream with the most significant amount of convenience. The video begins when the video preview button is clicked. Commercials may be closed from 5 to 20 seconds.
In-page Ads
The In-Page push ad type resembles a push message shown on a website while people view the page. In-page advertisements remain as the user scrolls through the page's content. The format has OS-specific targeting (including iOS).
The available amount of in-page traffic in ClickAdilla is more than 4 400 000 impressions per day. The price you will pay for 1,000 impressions is only $0.05.
In-page push advertisements do not need consumers to sign up. They are shown on the site itself. You may reach your audience on every device and operating system, including iOS, using In-page push notifications. In-Page advertisements remain as the user scrolls through the page's content. It may be shut off at any moment.
Full-page Interstitial Ads:
The traffic you can get in ClickAdilla for interstitial ad format is approximately 22 500 000 views daily for mobile devices. For the desktop interstitial you can get around 15 200 000 views per day.
Interstitial advertisements are interactive, full-screen advertisements that cover the user interface of their host application or website. These advertisements are inserted between content at natural transition moments or gaps, such as between activities or game levels. Their complete coverage distinguishes them from pop-up, native, and banner advertisements.
Notification Widget:
Available traffic for notification widget format in ClickAdilla is more than 450 000 clicks every day. The minimum price is around $0.01 for each click.
A widget is a text banner that seems to be a system notification above content. It contains two interactive buttons, allowing consumers to decide whether they are interested in advertisements. The widget's unique mechanism displays your offer only to active users. It featured many stages of user authentication and a built-in anti-fraud mechanism and was designed and tested to promote apps.
Features of notification widgets at ClickAdilla
Works on both iOS and Android devices
Built-in anti-fraud system
Unique display mechanics
Multi-level user verification
High traffic uniqueness
High CR and CTR
Native Ads:
The approximate traffic volume for native ads in ClickAdilla is 360 000 clicks daily. The price for 1 click is around $0.001. 
Native advertisements are put in the website, completely replicating the web site's content; hence, they are not readily identifiable as advertisements. The native advertisement block consists of six 300 x 250 banners with text.
The best verticals for native advertising are: Games, E-commerce, Betting, Forex, Dating and Adult.
Targeting At ClickAdilla
ClickAdilla may help you target certain traffic clusters or increase your user volume in specific locations or specializations. You may customize incoming traffic in several ways.
Frequency capping:
This function lets you control the number of times your ad will be shown to a single user within a specified time frame. In other words, this option enables you to reach a more significant number of unique consumers within budget constraints.
Language:
Additionally, ClickAdilla may create traffic filtered by language. This may be especially beneficial if you're targeting a language group that is a minority language in a particular nation or area since there is often less local competition owing to the dominance of the majority language.
Language-based targeting is also beneficial since non-native speakers of that language will pay greater attention to advertisements in their native tongue.
Device Type/Vendors:
Targeting may be modified to emphasize the device type (iPhone or Android phone, tablet, etc.) or the device manufacturer. This may aid in generating traffic from specialized or comprehensive ad campaigns that mention specific devices or require them to function on particular operating systems or parts with special hardware.
Categories:
ClickAdilla may deliver targeted traffic depending on the type of searches or clicks either from adult-specific or mainstream categories. Many traffic organizations don't deal with Adult landings or traffic from Adult categories. However, ClickAdilla may assist you with these groups, which tend to generate steady or repeat visitors. ClickAdilla's category targeting reflects the contemporary preferences of users seeking either adult-oriented or mainstream material.
IP Range:
This strategy is a little more specialized than many others. Still, it illustrates the level of precision and complexity ClickAdilla can manage when it comes to increasing your total visitor flow. This allows you to target particular demographics or local groups due to the location-based nature of IP addresses.
Carrier/Wi-Fi:
You may customize the creation of traffic volume by carrier type or Wi-Fi use. Studying where most of your website's traffic originates may be helpful. Varied carriers have different effective zones and range around the globe and the United States; therefore, this may be useful.
Browser:
With browser-based targeting, you may concentrate on generating traffic from certain browser users. This might be useful if your website or company depends on specific extensions or code-based data that are browser-dependent.
OS-Based:
Operating system-based traffic acquisition is a way of specialty targeting. This might assist you in targeting specific age groups since many young people are fond of Apple laptops. In addition, you may target certain operating system-based phone kinds using Push advertisements.
Geo-Based:
Geo-based targeting emphasizes geographic information, such as nation, state, area, and city. This strategy is less particular than others, and you may expect a wide range of individuals from diverse backgrounds and races depending on the nation. Nevertheless, you may refine this geographic range based on your objectives and requirements.
The combination of ClickAdilla's self-service interface, comprehensive targeting options, CPM-bidding platform, and highly-trafficked Publisher sites will enable you to conduct a profitable advertising campaign for your business like online retail store or any other service.
Upload your creatives: To show banner pictures to your audience, you may either upload new photos or pick already used ones from your image bank.
Create a campaign
Set the campaign's name, target audience, device, and daily budget.
Select targeting & Profit: Choose from a list of frequently visited websites and choose the location where your advertising will be shown.
How to launch a campaign
First of all, you need to register on ClickAdilla website by pressing a Sign Up button or Buy Traffic button: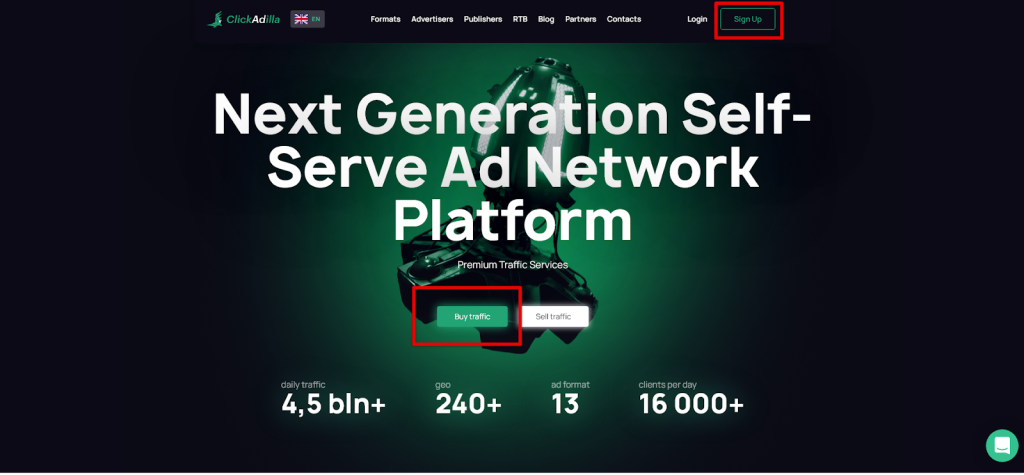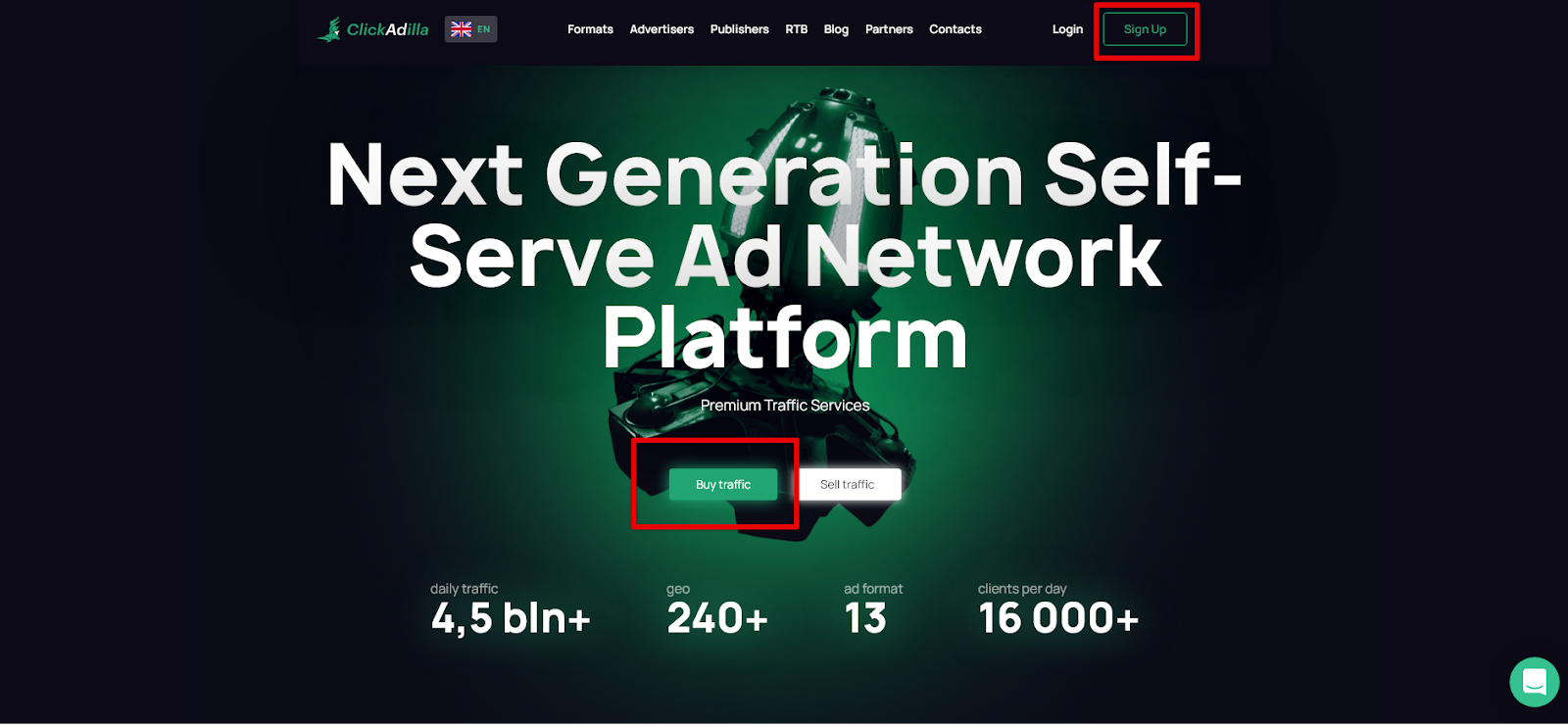 Then you type your name, email address and your contact messenger. Your phone number is optional.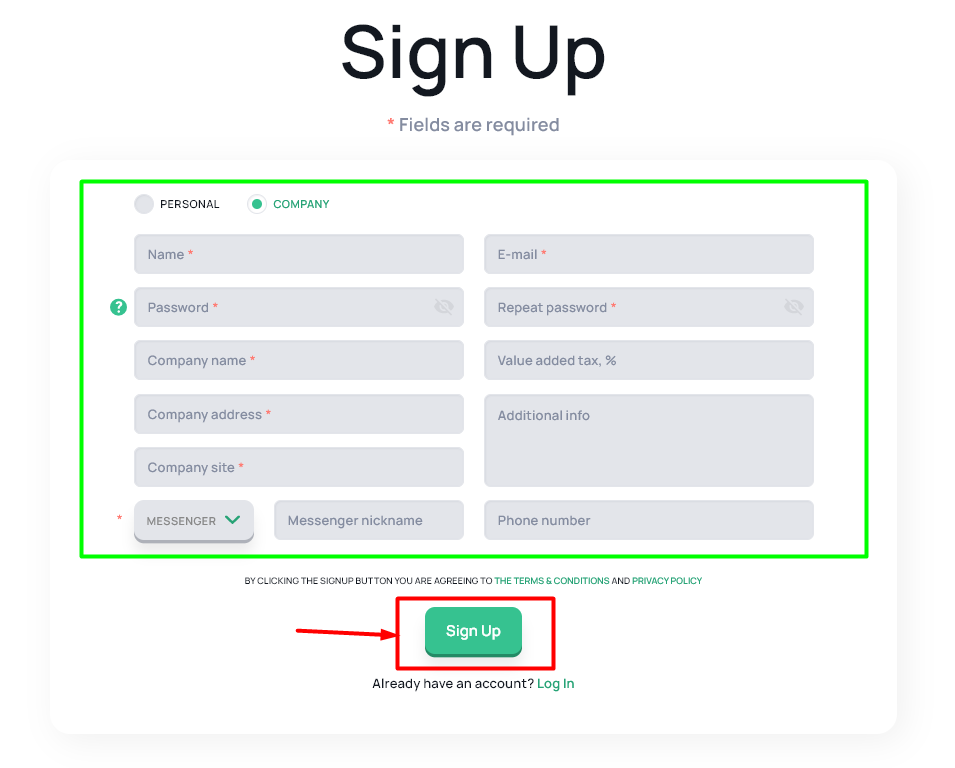 Once you are registered, you can start by creating your campaign: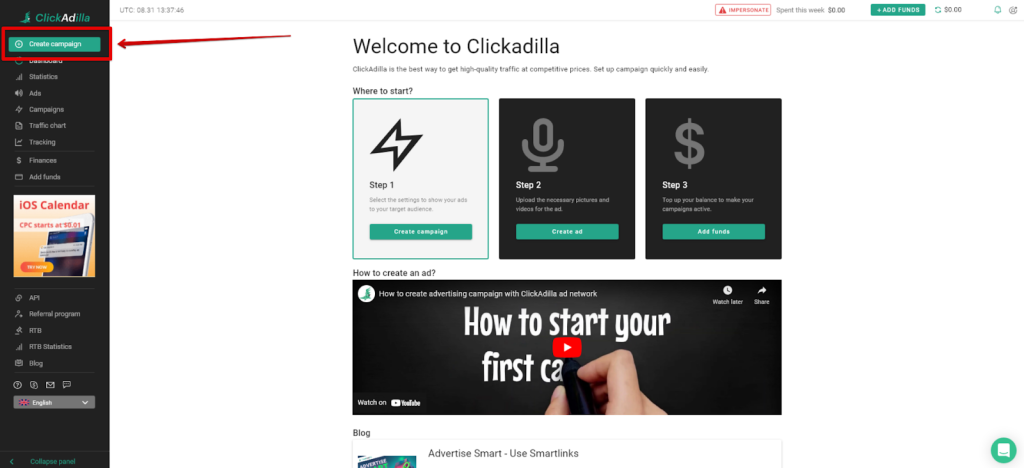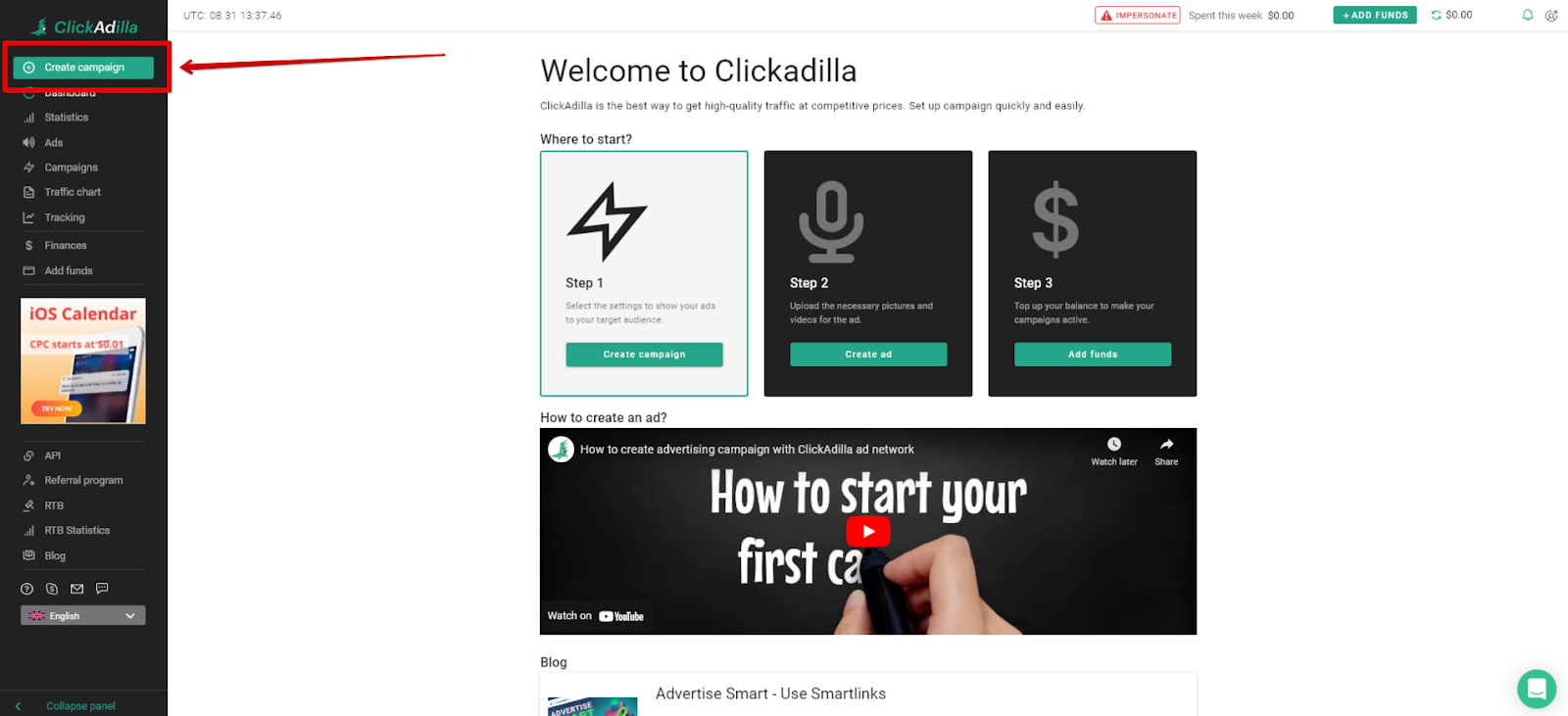 Choose an ad format that you prefer or which suits mostly for your offer: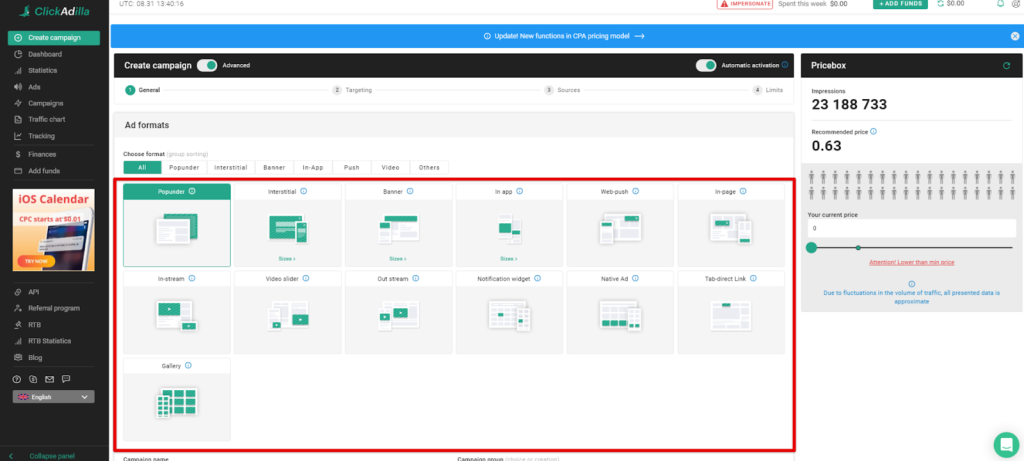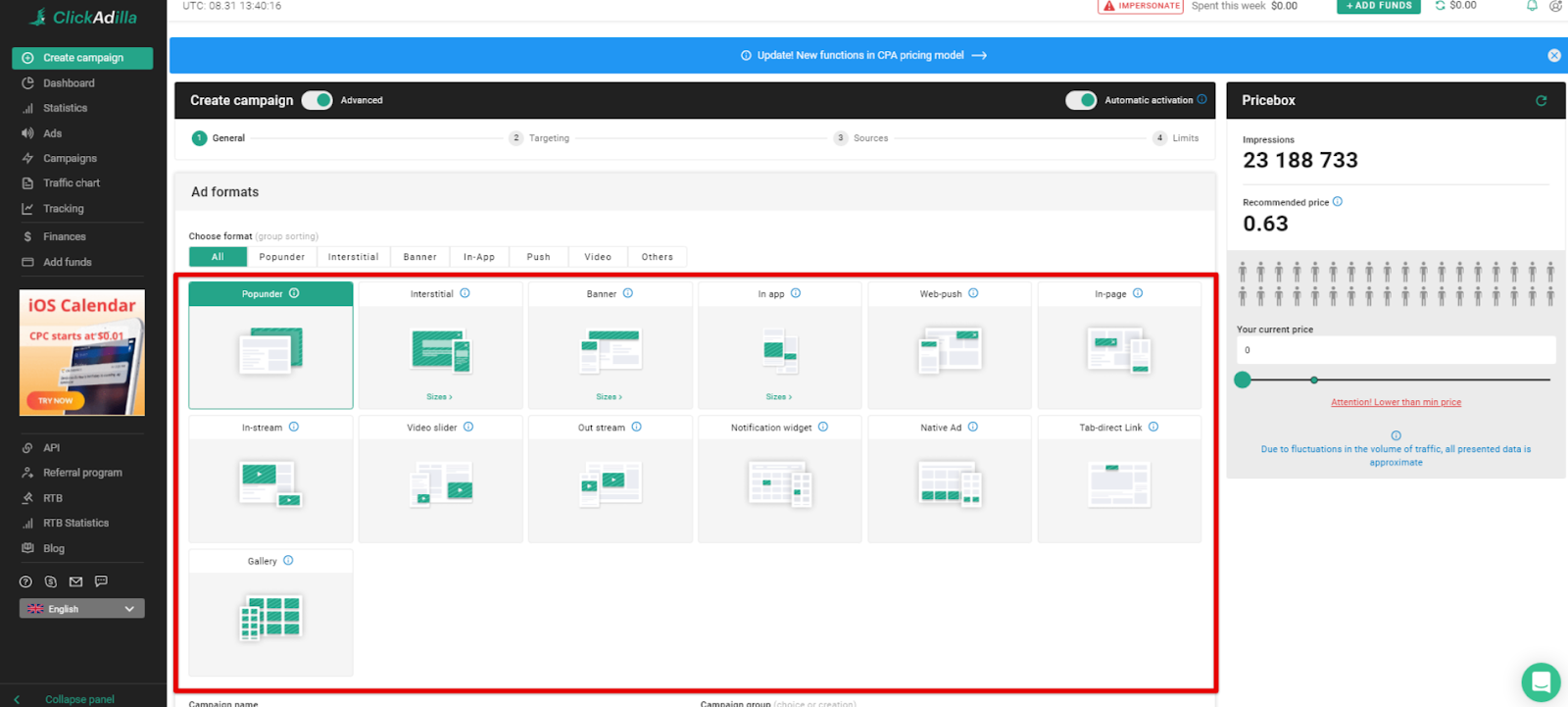 Then choose a payment model. This is a price you bid for the traffic. There are four payment models in the grid: CPA, CPC, CPM and CPM Goal.
The essence of CPM Goal: you specify the desired cost per conversion, and the system itself optimizes the campaign so that the cost of a lead goes exactly to the price you specified. However, you pay for impressions.
There is a convenient instrument in ClickAdilla account – Pricebox. It shows the approximate price for 1000 impressions or 1 click depending on ad format.The price in Pricebox is a fluctuating index so you should consider that it changes due to the traffic volume.


You can choose the quality of traffic you will get for your campaign. The quality of traffic obviously influences the price of traffic.
All — not very "active" traffic, moderate CTR;
Medium — traffic with medium activity;
High — the most active traffic, as a rule, the CTR is very high on this type of traffic.


To create an ad, you need to upload the link to your offer or a website you want to promote in ClickAdilla. Just press the button "Create a new one" to start creating a new ad.
Name your ad and put the relevant link. Then you can choose tokens to track your campaign parameters in a tracker. You need to set up a tracker to see your conversions and payouts in your personal ClickAdilla account.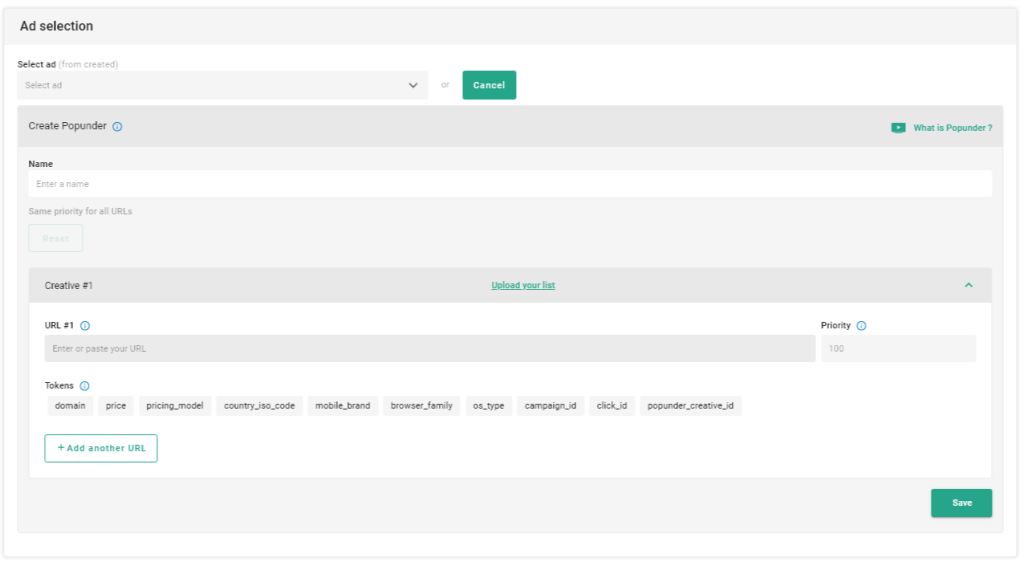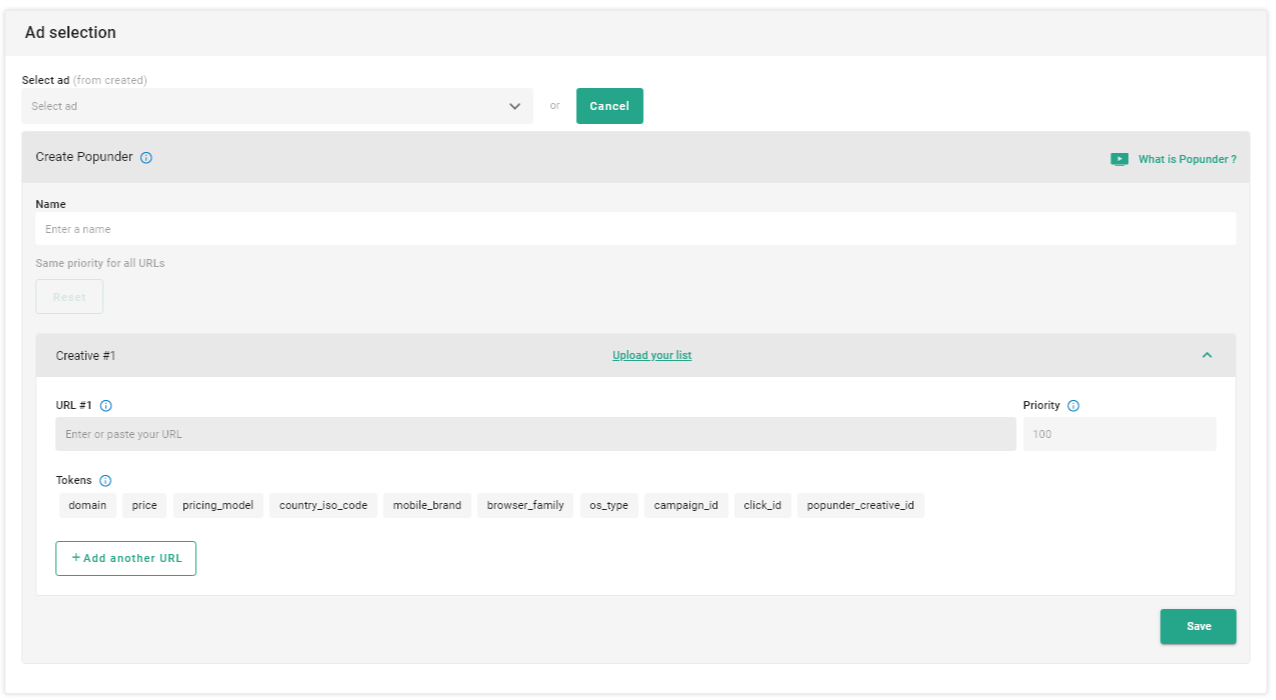 Then you can select a category of your campaign. You can choose either Adult or Mainstream category traffic. If you want to receive traffic from both categories, do not choose anything here – it is set up automatically.
Inside the categories you can select tags that precisely target users interested in certain type of content. If you do not choose here any tag, they are all set up by default.




Target settings in the network are as follows:
GEO – country and region;
Device type and its version;
Browser and its version;
Browser language;
In push notifications — the freshness of subscriptions and the frequency of mailing (up to 48 times a day);
IP ranges;
Connection type and provider.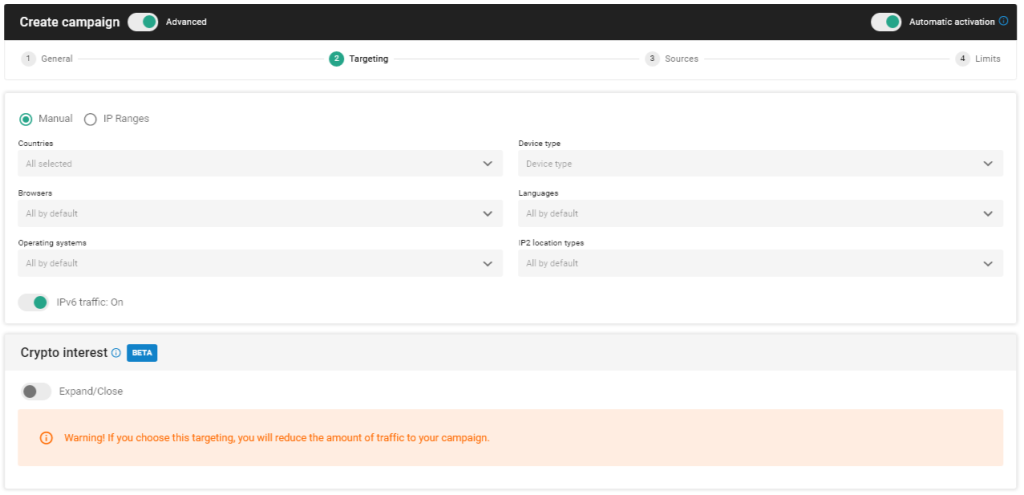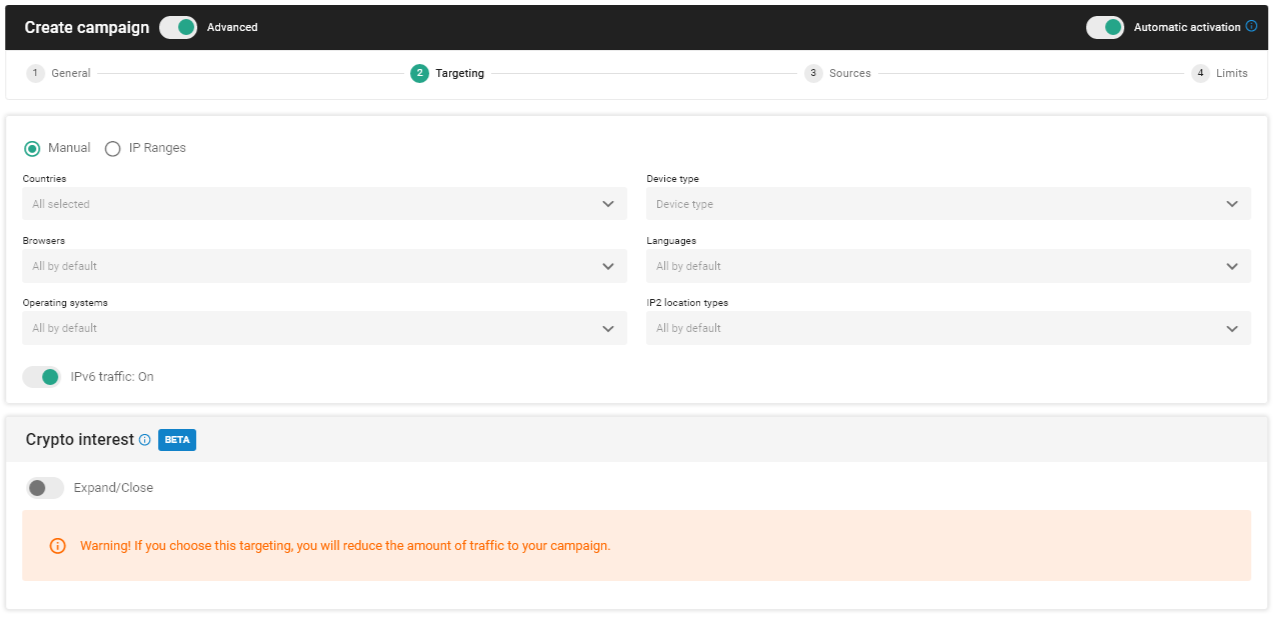 You can also choose the type of traffic – RON or Premium.
Premium sites from ClickAdilla are at the top of Alexa Rating. You can choose both all sites and the "Premium" category sources. You can also create a blacklist or a whitelist.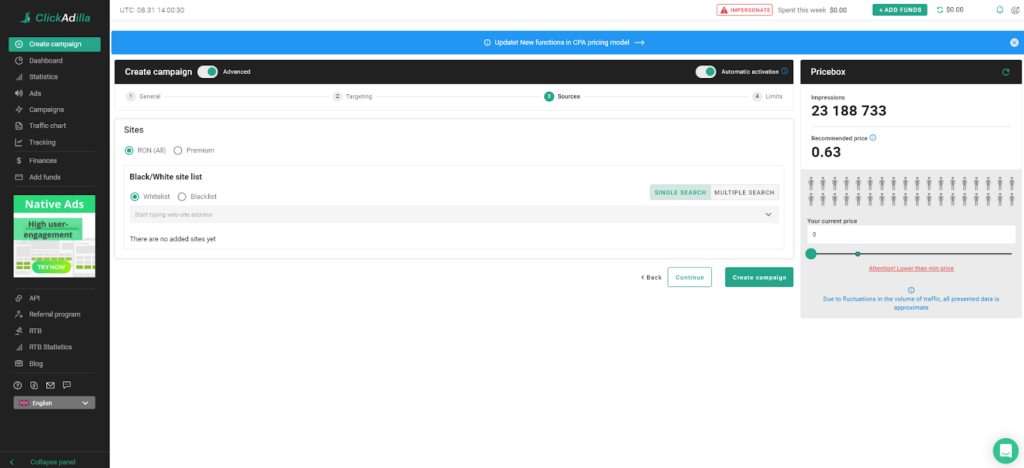 In the limits section you can choose the limit for money or impressions. There is an hourly, daily or total limit type.
You can also put a data range for your campaign.
There is also an option to set up certain days of week when your campaign is running.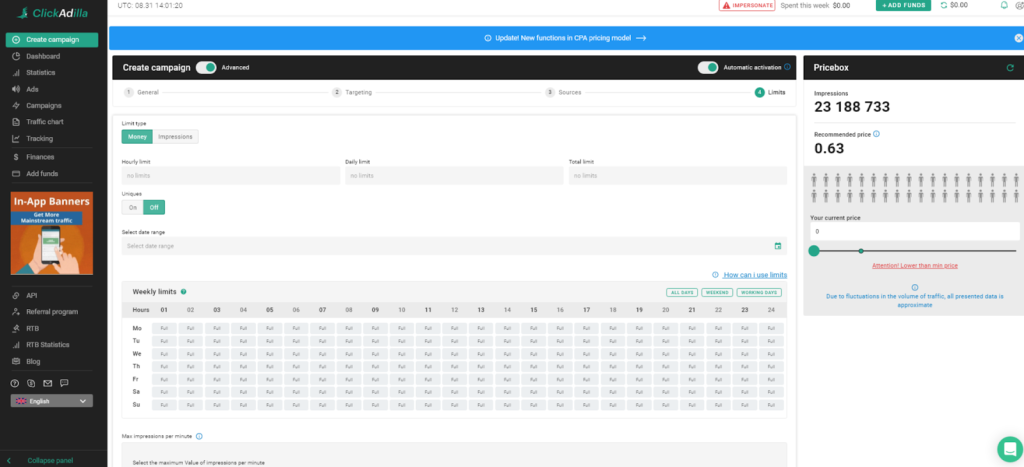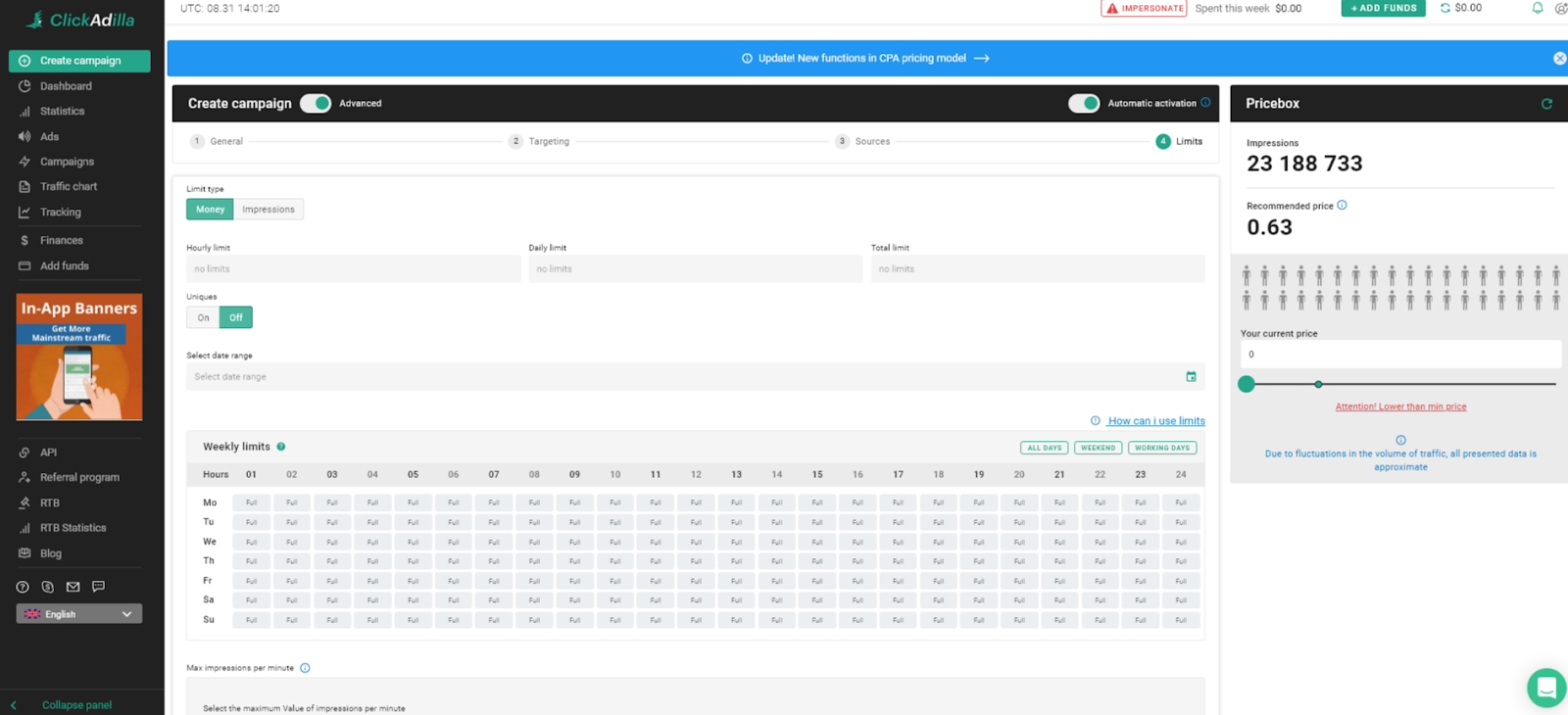 Moreover, you can choose a maximum impressions number for your ad.


That's it. All you have to do now is to press the "Create Campaign" button below:

ClickAdilla for Publishers
Features of ClickAdilla for publishers
Single Tag: Once you have placed their tag on a website, you can control all ad types in your admin panel.
Detailed Stats: Real-time statistics with updates every hour. Combined GA and YM to improve traffic management
Adult Traffic: Ads of the highest caliber from premium and exclusive platforms, spanning several categories.
Mainstream traffic: Advertising for the most popular mainstream verticals, such as dating, software, and casino.
Live Support:
There are no tickets or lines – your manager is solely accountable for your experience.
Here are the steps to sign up as a publisher with ClickAdilla –
Step – 1: Go to the official website of ClickAdilla and click on 'Sell traffic'.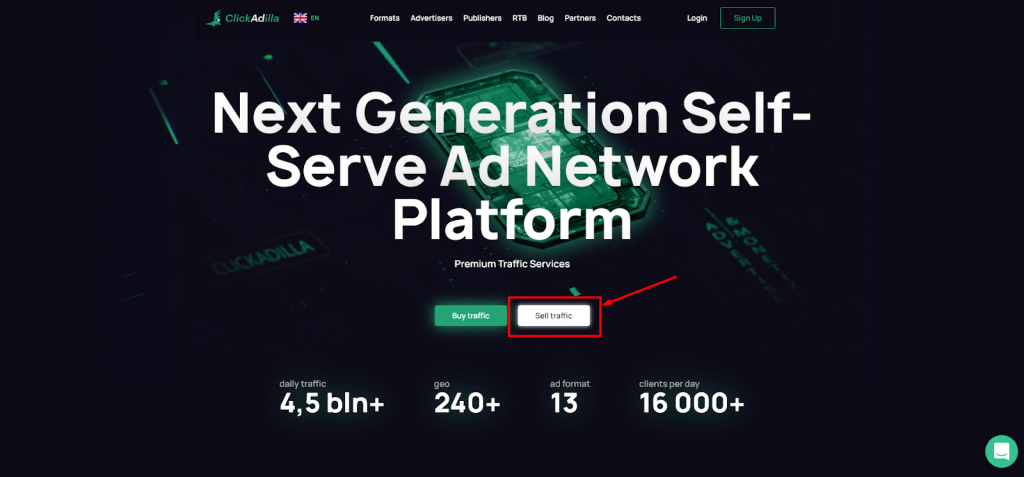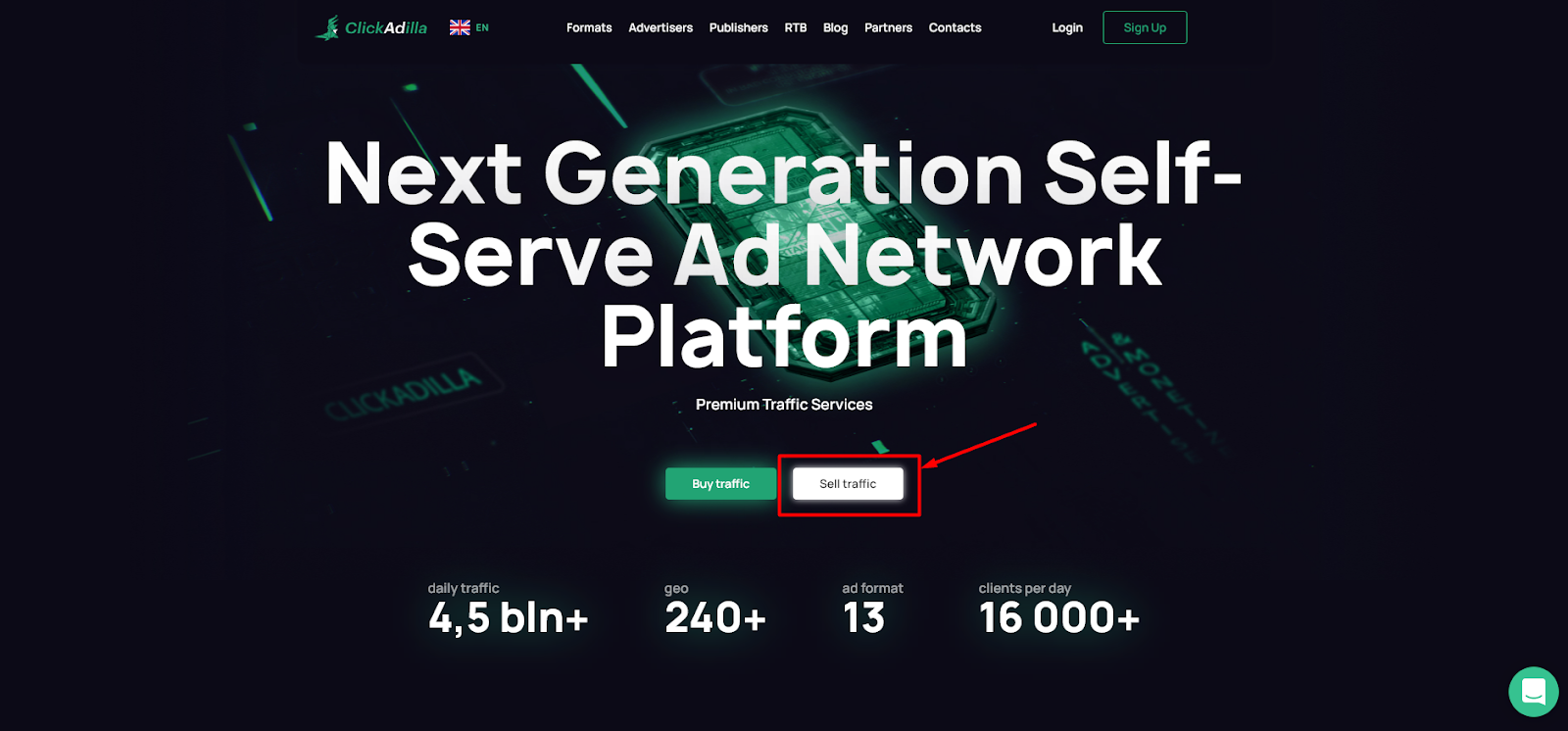 Step – 2: Click on 'Get started.'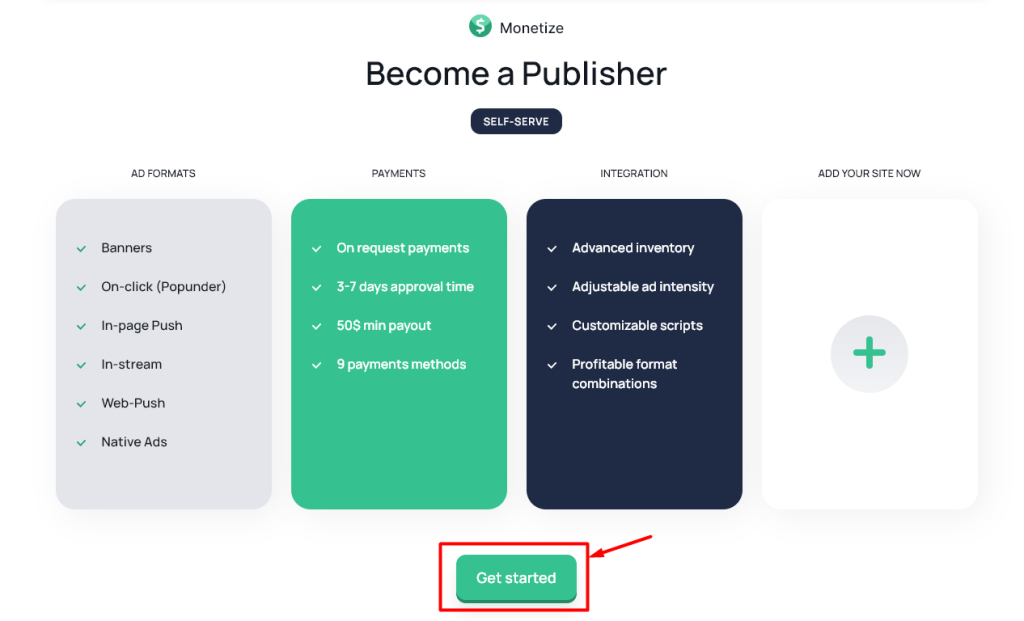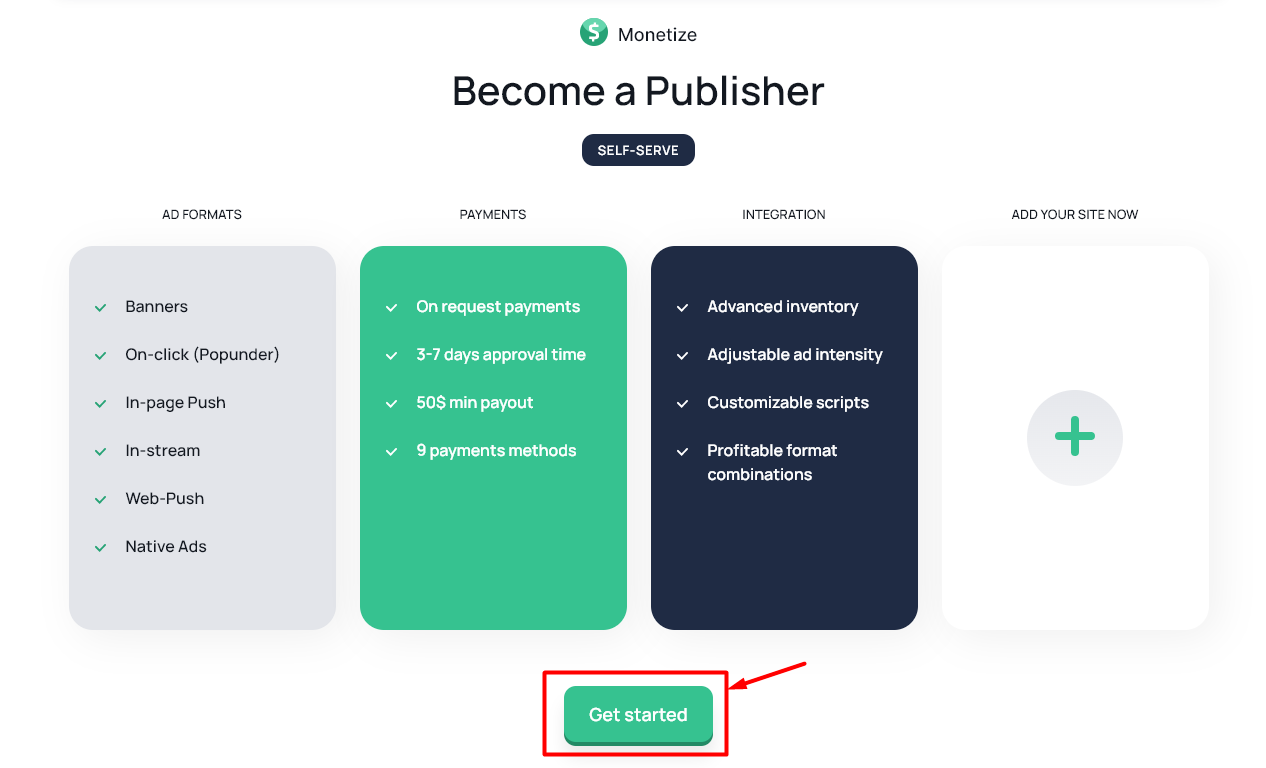 Step – 3: Now, click on 'Join Us.'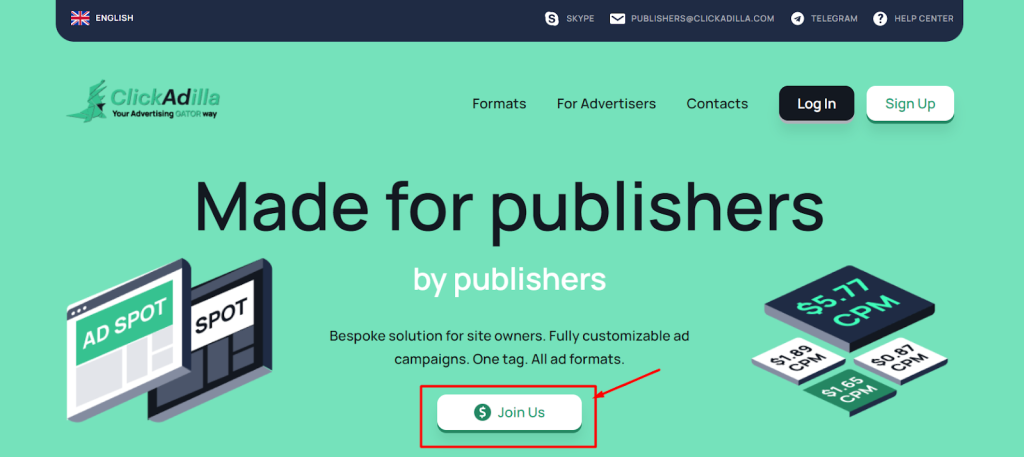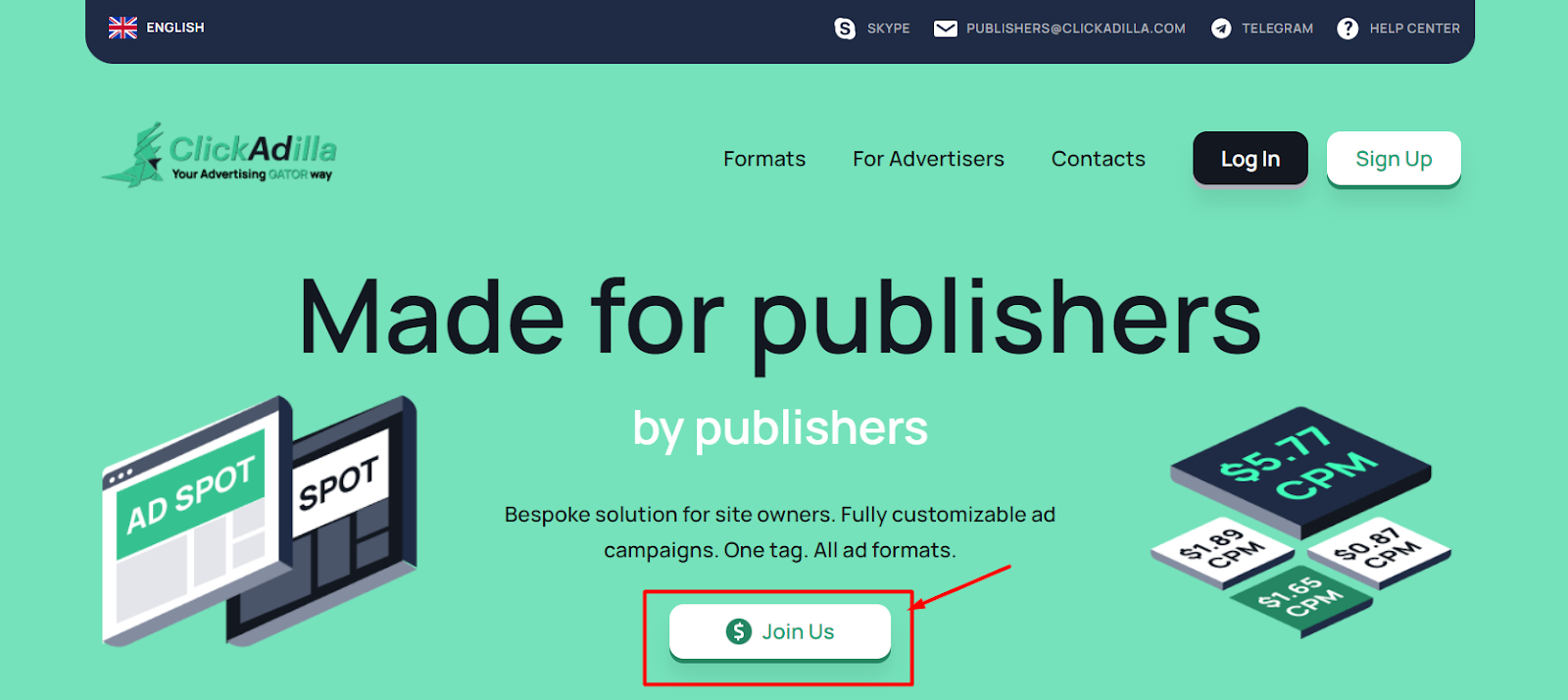 Step – 4: Fill up the details asked for, check the box, and click on 'REGISTRATION'.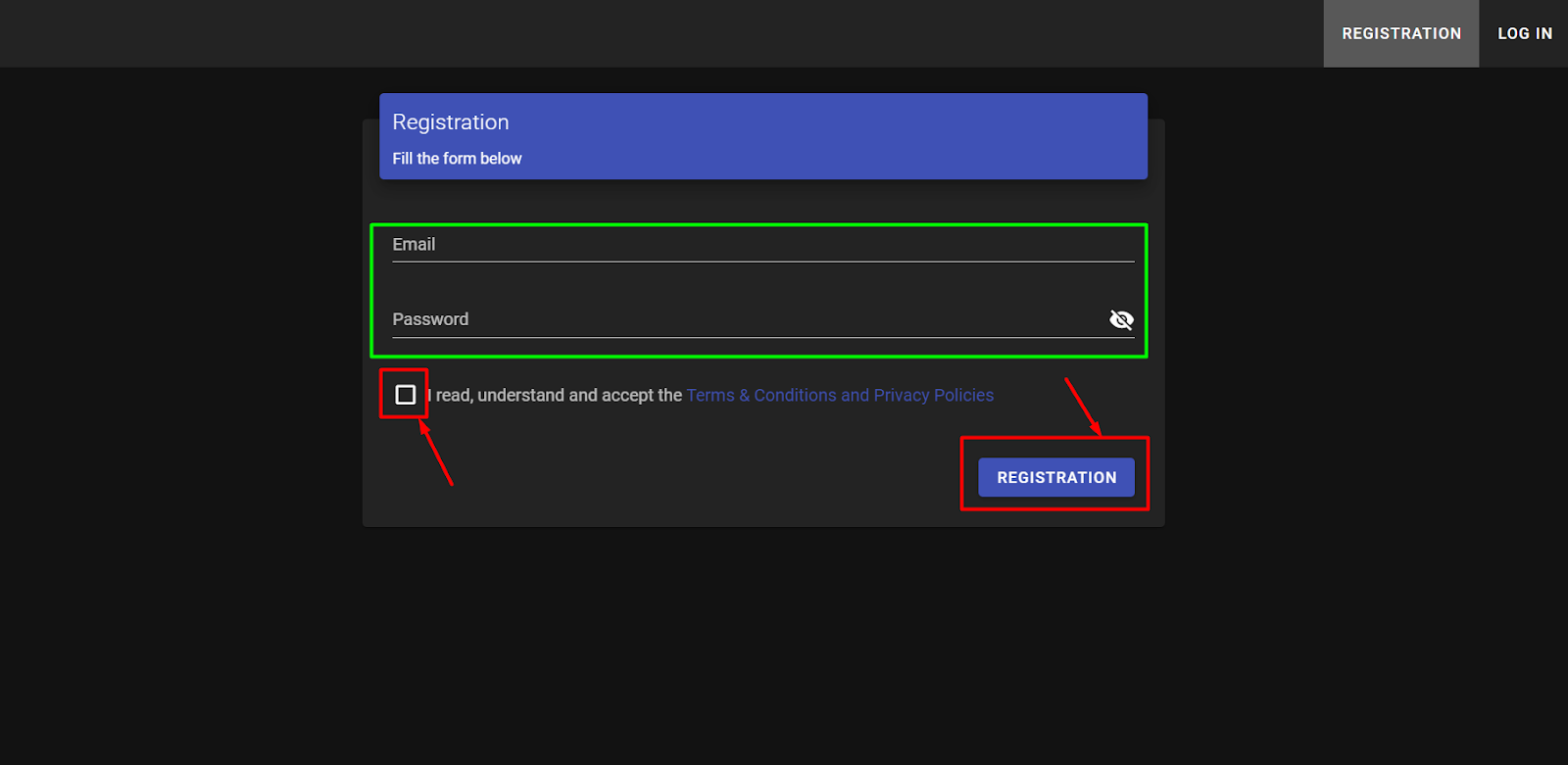 That is it. You are good to go.
Why Do I Recommend ClickAdilla?
Low Minimums:
The minimum deposit and withdrawal for both advertising and publishers are $50. The low minimum deposit means you may begin advertising with ClickAdilla for as little as $50, and the low minimum withdrawal means you can withdraw your publisher profits without waiting for a significant sum to collect in your account.
Anti-Fraud Technology
ClickAdilla's anti-fraud system employs many techniques to combat click fraud and bot traffic, such as IP blocklisting, domain banning, and activity monitoring. Their technology continually improves to keep up with the most recent scam schemes. Consequently, marketers can feel comfortable that actual people, not bots, are seeing their advertisements and receiving high-quality traffic.
Fast Campaign Moderation:
Time is of importance for internet advertising. You want your campaign to go live as soon as possible to generate leads and earn sales. However, publishers are unwilling to compromise quality for speed. Here is where ClickAdilla comes into play. This advertising network provides rapid campaign moderation, allowing you to launch your ad in less than 10 minutes while ensuring it meets their guidelines.
Multi-Language Dashboard:
ClickAdilla features a five-language personal account dashboard: English, Spanish, German, Russian, and Japanese. This facilitates access, comprehension, and management of account settings and data for users from all over the globe.
Quick and Easy Integration:
ClickAdilla interacts with many of the most central monitoring systems on the market, making it very easy to monitor your results. It takes just a few clicks to connect your tracker to the network.
Streamlined Interface:
The platform's straightforward interface allows marketers and publishers to set up and manage their campaigns with little internet advertising expertise. The dashboard provides a comprehensive overview of all account activity, including real-time data, graphs, and trend reports. Additionally, you may utilize the dashboard to build new campaigns, manage current ones, and monitor their outcomes.
Buy Traffic in Several Ways:
There are several options for marketers to purchase traffic with ClickAdilla. The self-service platform enables marketers to set up and manage their campaigns independently. OpenRTB provides advertisers access to real-time bidding data and facilitates connections with publishers. API is also accessible to individuals with more expertise. This one gives more campaign management flexibility and control. Clickadilla provides advertisers with various alternatives according to their requirements and interests.
Huge Traffic Volume:
ClickAdilla is one of the world's most prominent ad networks, reaching approximately 4.5 billion people from 240 countries daily. The organization is proud of its high traffic volume and capacity to provide tailored advertisements to an international audience.
Multiple Ad Types:
ClickAdilla is an adult advertising network that offers its members different ad types. This is helpful for marketers since it enables them to test alternative promotional forms. It is also advantageous for publishers since they have a variety of ad possibilities to show, boosting their potential earnings.
ClickAdilla Pros and Cons
ClickAdilla Pros
Multiple payout options
Low minimum payout
Bi-weekly payments
Impression frequency control
Custom scripts available
Same tag for multiple different ad formats
24/7 customer support
Fast and easy to use for beginners
Exclusive traffic sources from their premium websites
Detailed real-time statistics
High-quality traffic at low prices
ClickAdilla Cons
Specific browsers may block the ads.
Mostly adult traffic
Conclusion
Overall, ClickAdilla is a reliable advertising network. They provide a variety of ad kinds and styles and are constantly developing and adding new services.
Additionally, ClickAdilla provides a range of options that make it simple for advertisers to monitor the effectiveness of their campaigns and adjust their advertisements for optimum impact.
In addition, the organization delivers superior customer service and is dedicated to the success of its customers. As seen in my review of Clickadilla, this network deserves serious consideration.
Whether a small company or a multinational corporation, ClickAdilla can assist you in achieving your advertising objectives.