Brand24 review- How to Check What They Say About You Online?
---
"The majority of companies have social media business profiles. Some of them establish a significant part of their marketing campaign on the Internet. It's crucial to know what is being said online about a company to figure out if the present actions are profitable or if there is a need for a change of strategy" Patrick Mazurkiewicz, Owner at WirEntsorgen
The process of finding mentions about an enterprise and evaluating them as positive or negative is called social listening, and this is precisely what Brand24 tool was made for. However, it is not an only feature; I assure you. Let's find out what this software has to offer!
Projects
It's possible to follow a few keywords. Of course, the amount depends on a payment plan. Each project is a new keyword that is searched through on the Internet.
It must be something concrete, for example, the original name of the company. Users can be added to particular projects, and they will not see other ones on the account.
Mentions
This is the place where you can see all the mentions of a keyword. There is a graph that can show you results within days, weeks or months.
Under it, you can find information on which platforms your keyword was mentioned. In this bookmark, there is also a list of links to the texts that include your phrase.
"What is essential, Brand24 software recognizes if the comment about you is positive or negative. Of course, it has some limitations like the inability to recognize sarcasm or irony, but it works pretty well in general. You can filter through the mentions to find, for example, only negative ones to react to criticism about your company" Dima Suponau CEO & Founder at Number For Live Person

Summary
Another bookmark has a self-explanatory name. Here you can find all the information about the results in one place: the most popular and the latest mentions online, the number of observations according to the chosen period, and the sources they originate.
Analysis
There are more graphs about mentions in particular media. Additionally, in this section, you can search through powerful social media phrases- hashtags. Also, there are rankings of sites with your keyword included.
They are sorted by activity and the level of influence. On the very bottom of this bookmark, you can find the context of the discussion, which means the words that are generally mentioned alongside your key phrase.

Sources
Here you can find all the places you were mentioned in two categories: public profiles and pages. They are stacked from the best, with the most mentions and the highest influence status to the least important.
You can filter them, designate a period from which they are displayed and what is even more interesting, export the data to the spreadsheet to see all the mentions you have, for example, to send to the client or business partner.
Quotes
In this section, you can find, as you can probably guess, quotes with your keyword. The positive words around the phrase are coloured green to highlight the positive sentiment, and the criticism is red-coloured to send you a warning that you need to react appropriately. Of course, here you can also find filters to search through a particular time or only negative comments.
Comparison
Here you have a clear graph with your mentions, their origin and sentiment. Under the chart, you have a button Compare project where you can choose from your projects you want to compare it to.

Reports
Under the bookmarks with features, there are a few possibilities of creating a report. You can have it in PDF format, in Excel or as an infographic.
Slack Integration
Brand24 has inbuilt Slack integration that you can enable. It creates a better speed of your reaction to the things that are said about you online. You may also want to pass on the task to the employee with the best qualification to handle the situation.
Mobile App
If you switched to your mobile instead of being attached to your computer all the time, Brand24 creators made sure you can find their tool on Google Play shop or AppStore.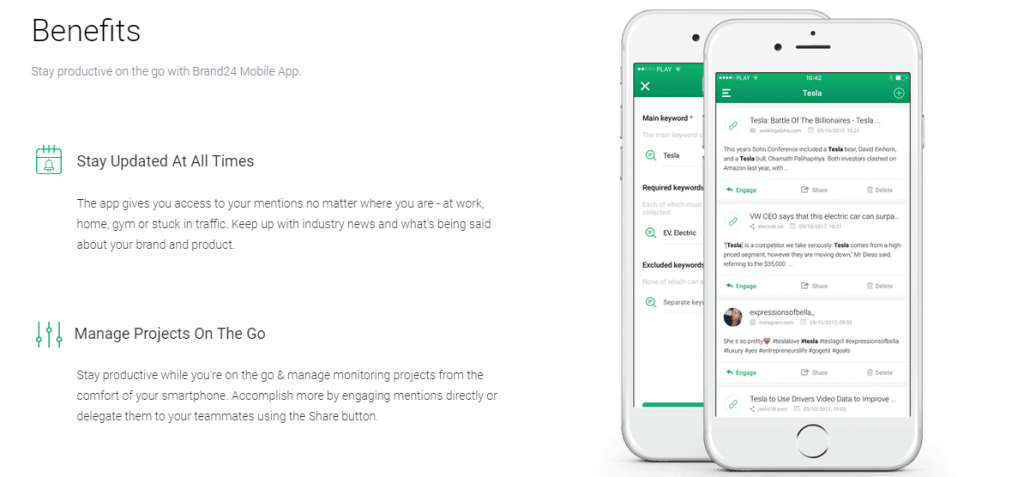 Alerts
You don't need to sit the entire time in front of the tool's dashboard to react quickly when the mention appears online. Alerts will inform you about new comments, or only negative ones if you wish so. You can set up reports to be sent on your email account daily, weekly or when some changes that need your attention turn up.
Onboarding
Brand24 has onboarding solutions to show you how to use this software effectively. When you open a dashboard for the first time, there will be brackets to show you how to navigate through the system. In each bookmark, there is also information about how it works.
If you don't know how to start your work with Brand24, don't panic. There is a Video walkthrough option under all the bookmarks on the left. Still in confusion? No worries! There are training webinars, and the fastest webinar date is displayed right under the "Video Walk Through" button.
Helpdesk
To contact Brand24 customer service, you need to click on a blue chat opening option in the right-hand bottom corner of a dashboard. They answer after a few minutes, and you can solve less significant issues via a chat. There is an option of Knowledge Base with FAQ where you can find an answer for your questions.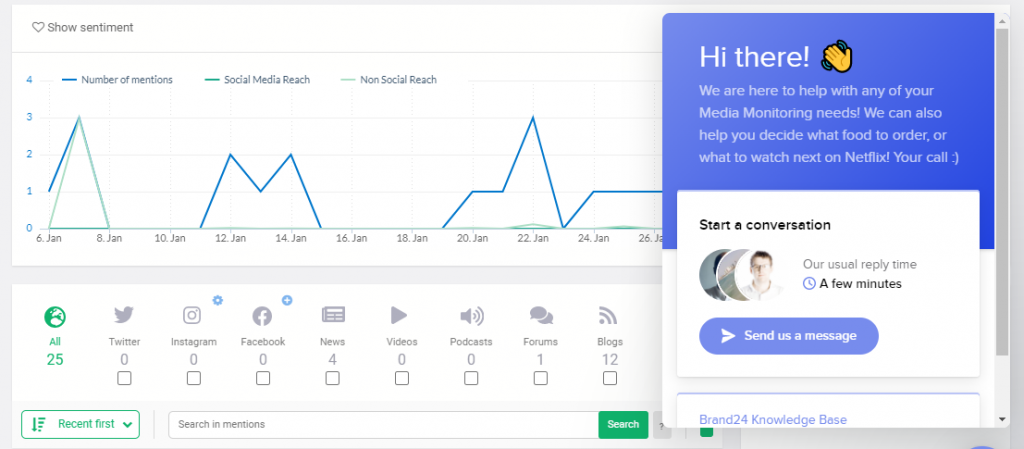 Why do you need Brand24 in your business?
Online reputation management
Brand24 allows you to see what people say about your company or even you as a person through the websites and social media profiles. Manually you won't be able to find a majority of these comments.
"When you know what is being said about you, you can react and clear some misunderstandings or ease criticism from customers or even competitors" Gabriel Nightingale from Bon Accord Pest Control.
Fields to improve
If you know your customers' negative experiences, you have research about things that need improvement in your business. On the other hand, if a particular part of your company activities is praised, you know that you must keep its quality to maintain a positive feeling about it.
Discovering the right path
When you try a new social media campaign, you may use Brand24 for eavesdropping if it's working, are there any things that need improvement or if the whole campaign is a failure. An excellent solution for those who can't afford financial losses in marketing.
How much does it cost?
Brand24 has a 14-days free trial. During that time, you will see how many projects you will need, how much users you would like to assign to your account and what features are irreplaceable. Then, you can choose from 3 payment plans listed below.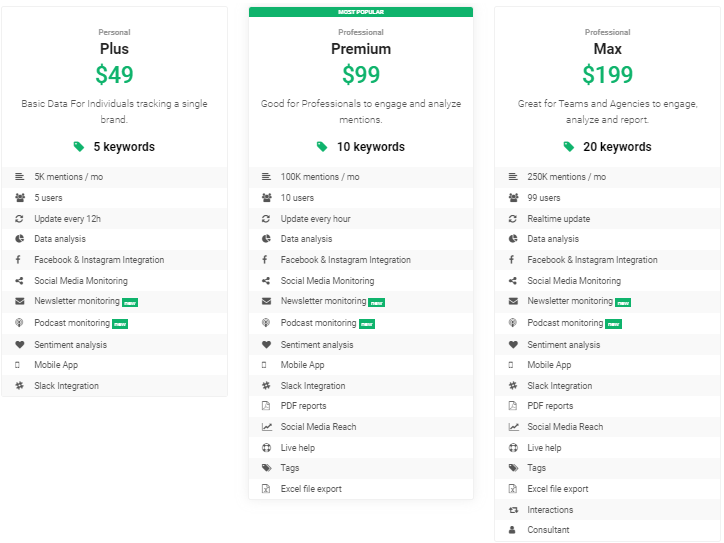 Conclusion
If you want to know who is talking and how is talking about your business, be alerted when there is something wrong going on or when someone praises you online, Brand24 is a perfect software for that. The number of features and ways to use the received data is significant, and the price for that is a bargain. However, don't take my word for it and try the tool yourself, and you will realize that you no longer can run online campaigns without it.
---