---
Introduction
[eafl id="19305″ name="Bluehost" text="Bluehost"] is the star of the Endurance Group, a conglomerate that brings together similar services such as HostGator or iPage. It is huge in hosting, with figures that impress. For example, they have more than 750 employees and host more than two million websites.
Bluehost claims to offer the best in terms of shared hosting and they have a support team available 24 hours a day. But how will the whole set work? Let's review this hosting and find out if it is a good alternative for your project.
Bluehost prices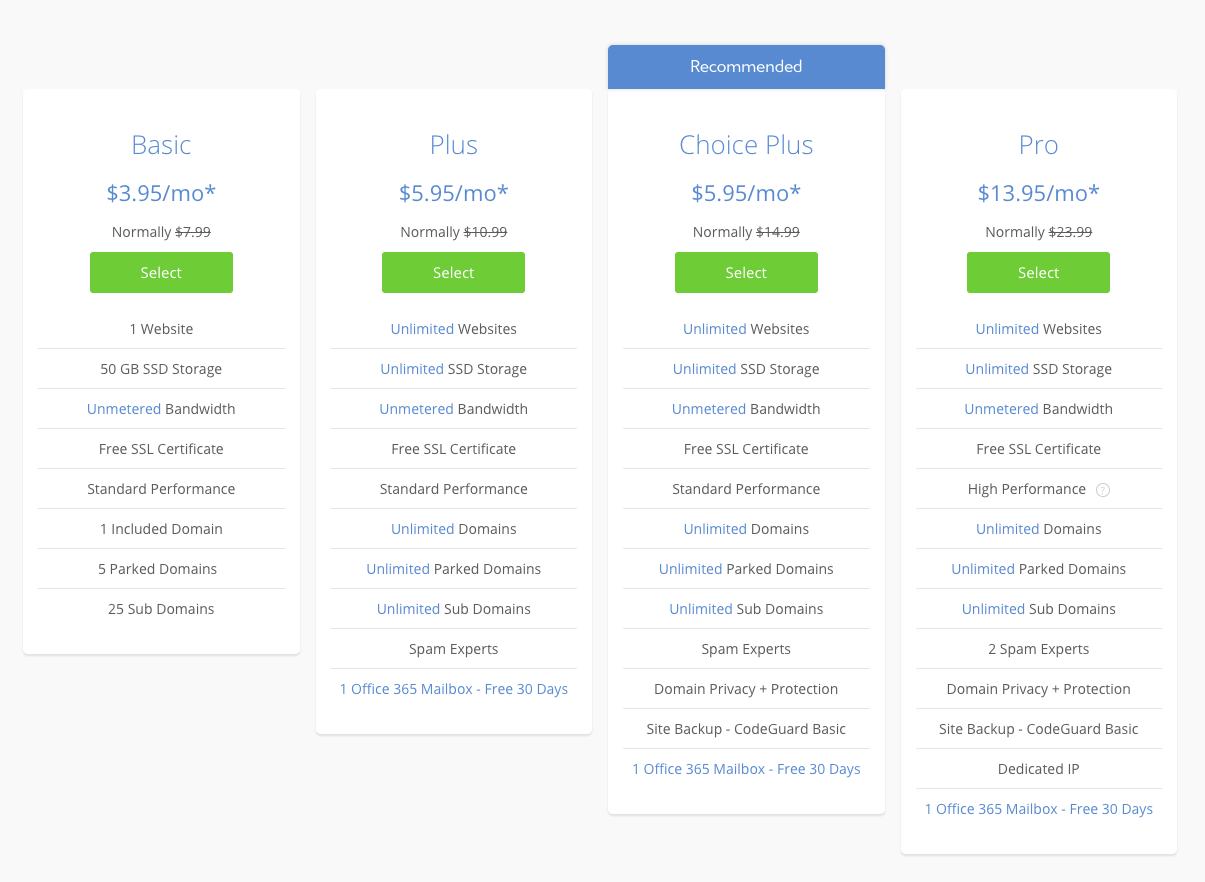 BASIC $3.93 / month (at time of publication). 1 website, 50 GB of web space, SSL certificate, 5 parked domains
Plus $5.95 / month

(at time of publication).  Pretty much everything unlimited

Choice Plus $5.95 / month

(at time of publication).  Pretty much everything unlimited like before but this time with an extremely important addition of Site Backup

Pro $13.95 / month

(at time of publication).  As before everything unlimited with Site Backup and a dedicated IP address.  Another important aspect of Pro is that the performance is much better.
Pros and cons
Pros
Webspace: They offer a lot of webspace, even in their most economical plan.
No monthly traffic limit: We liked that they do not put a limit on the traffic you can receive.
The first year is very cheap: The first time you hire Bluehost it will be very economical, keep in mind that when renewing the contract the price will rise a lot.
Cons
Aggressive Sales Policy: They offer constant extensions and add-ons for your hosting that can be expensive.
Unstable speed: In our speed tests we saw a lot of volatility. Sometimes it offered acceptable speeds and many times it was slow.  However, this was just the basic package when we tested the higher performance and higher-priced Pro plan load and TTFB times were more than acceptable.
Support quality: Despite having 24-hour customer service, our experiences with the support team were not entirely good. We had to wait too long to be taken care of.
Bluehost specifications
FEATURES
RATINGS
COMMENTS

Easy to use

4/5
Registering is more complex than it should, it seems to me that your system is designed so that you end up buying extensions of the hosting that you don't need. In 2019 they launched a new interface that is a simplified version of cPanel. Remember that your tutorials, interface and customer service are only in English.

Domain names

Yes
All your plans include a domain name.

Keep in mind that with the basic plan you can only have 5 parked domains and you can create a maximum of 25 subdomains.

E-mail

4/5
Yes, you can have up to 5 email accounts and 100 MB per account with the Basic plan. The rest of the packages offer unlimited accounts and space.

Databases

5/5
There is no limit on the number of databases you can create. You can use MySQL databases.

Applications

4/5
Through its one-click installer you can add apps like WordPress, Drupal, Joomla and others.

Keep in mind that Bluehost adds some plugins to WordPress that you don't need, and during installation it shows you templates, for a fee, that you surely won't want.

Webspace limit

5/5
With 50 GB of space in the Basic plan and unlimited space in the rest of the plans. It does not use SSDs, something that would improve speed.

Monthly data transfer limit

5/5
No plan limits the monthly traffic that your website may receive.

Secure FTP and FTP accounts

4.5/5
Only allow SFTP to be used with the main account. There is no limit on the number of FTP accounts that you can create with them.

Where are your servers

4.5/5
The server is located in the United States so your website will have an American IP.  This could be a problem for European (and therefore GDPR) rules

Security aspects

5/5
Through the cPanel you can integrate SiteLock that scans your website to find vulnerabilities. Keep in mind that this is a payment option.

All your packages come with free SSL (https) encryption.

Server speed

4/5
This really depends on the plan that you choose

Server availability

4.5/5
Although we have tested other providers with better availability figures, Bluehost is solvent.

Backups

4/5
They make monthly, weekly and daily backups that you can download.

You can integrate SiteBackup for more advanced features, but this is only available in the Choice and Pro plans. If you want to use it with other packages it will cost you extra.

CDN (content delivery network)

Yes
Although it does not offer its own CDN, it pre-integrates the CloudFlare content delivery network. This even offers a free package.

Server performance

5/5
Bluehost allows operating with PHP 5.4, 5.6 and 7.0. Other programming languages ​​such as Perl or Ruby on Rails can also be used.

Money-back and guarantees

Yes
There is a 30-day money-back policy.

Help and Support

4/5
They offer support over the phone (US number) or via live chat. In our experiences, attention was a bit slow and not very decisive.

Global rating

4.4 / 5

The speed of Bluehost is a little disappointing for the basic packages but you get what you pay for and the Pro package performs well and other aspects are acceptable (eg availability).
Final thoughts
Bluehost is one of the most popular hosts worldwide.
This web host is great if you need a lot of space or do not want to have a limit on the monthly data transfer . Another positive aspect is that they include the domain name and pre-integrate a connection with the CloudFlare CDN .
[eafl id="19305″ name="Bluehost" text="Check out their web for yourselves"]
Note : Please note that there are interesting discounts during the first period of the contract .
Alternatives to Bluehost
[eafl id="19280″ name="Siteground" text="Siteground"] – read review
WPEngine
GoDaddy
Our Bluehost hosting test
We have tested the performance of Bluehost hosting to give you an idea of ​​how your system works.
Another very important aspect when assessing the performance of a host is the speed of this.
So you know what to expect from [eafl id="19305″ name="Bluehost" text="Bluehost"] we do recurring tests with several tools such as Pingdom or GTMetrix.
We are not very happy with the results and we have to recognize that it is one of the hostings we have tried slower. Honestly, we expected much more, other alternatives such as [eafl id="19280″ name="Siteground" text="SiteGround"] offered more speed at similar prices.
This measures the interruptions that occur on your website. In other words, how much time was found without service? For technical issues of server administration, having 100% availability is very difficult. For shared hosting, having levels above 99.95% is acceptable.
As you can see, the availability of [eafl id="19305″ name="Bluehost" text="Bluehost"] was greater than 99.95%, and it was not bad. We are happy with these results and we believe that Blue[eafl id="19305″ name="Bluehost" text="Bluehost"]host has good availability.
---