7 Tips for Designing High-Converting Landing Pages
---
A landing page can be defined as an online salesman (or web page) that leads users to your website once they click on an advertisement posted on another page. The main aim of creating landing pages is to capture more leads by sharing highly relevant content with each user who clicks on a specific ad. 
According to Hubspot, "More landing pages mean more conversion opportunities." 
Yet, data indicates that most landing pages have a conversion rate of only 2.35%, while the top 25% of companies have recorded a conversion rate of more than 5.31% for their landing pages. 
So, what do these statistics mean for your business?
In simple words, while it is established that more landing pages lead to more conversions, it is also a fact that the design of your landing pages affects the conversion rate. 
But don't worry, optimizing your landing pages for more conversions is easy if you follow these seven steps:
Use a Simple Copy
You don't need to flaunt your vocabulary on your landing page. Most people prefer to read copies that are simple yet quirky, but easy to understand by everyone.
Here are some best practices to write a compelling copy for your landing page:
In the age of reducing attention spans, avoid jargon or heavy words in your text. Instead, use a conversational tone that may be understood by a ten-year-old child so that your audience needn't put any effort into understanding what you have written.

Avoid complex sentences and big words. Instead, use shorter sentences and simple words to make an instant connection with your visitors.
Use a Powerful Headline
Your headline is a crucial part of your landing page. According to data, up to 90% of visitors who read the headline on your page also read your CTA. Therefore, a well-written headline can compel a visitor to stay longer on your landing page. On the contrary, a weak or irrelevant headline would send him or her running away from your page. 
Neil Patel says that "Headlines fail when they don't match the article written or aren't relevant to a specific theme." In the same write-up, he shares the top Us for writing a great headline. These are:
Make the headline

unique

Be

ultra-specific

It should convey a sense of

urgency

Your headline has to be

useful 
You can also try using an online tool, such as Co-Schedule's Headline Analyzer, to check the efficiency of your headlines. 
Use Live Chat
Modern consumers neither have the time nor patience to call up your service staff for more information. Instead, they demand real-time assistance that allows them to make swift decisions regarding your product or service.
Live chat offers an invaluable tool to businesses by enabling real-time conversations on their web pages. 
Studies reveal that over 75% of customers are hesitant of purchasing on a website without a live chat option. Besides, live chat software gives you access to in-depth analytics and your visitors' browsing history that you can use to create personalized experiences for users.
By integrating live chat software on your critical touchpoints, you can engage your visitors better and educate them about your product or service through real-time conversations that will lead to more conversions.
Go Minimal
Yes, go minimal in every sense of the word to keep your pages clutter-free and easy to browse. For example, ample use of white space between paragraphs and margins improves comprehension, making your text easy to skim through.
The reason is simple. You have limited time to catch the attention of your visitors. Therefore, it is best to offer a clean page with a few meaningful sentences that lead your visitors to click and follow the action you desire them to take.
Avoid long paragraphs. Use bullet points instead

Leave white spaces between points for better readability

Use proper margins and only use one or two powerful images to avoid distracting your visitors

Consider a Z pattern for placing your content as the human eye naturally scans a page in the same mode
Avoid Multiple Options
Research says that 48% of landing pages give multiple offers to visitors. However, "putting multiple offers on your landing page can decrease conversions by up to 266%."
Yes, too much of choice is not always a great thing. And, when it comes to your landing page, it is best to offer no more than two options to visitors, which simplifies their decision-making process. 
The following page with a minimalistic design and a single CTA is an excellent example of a high-converting landing page: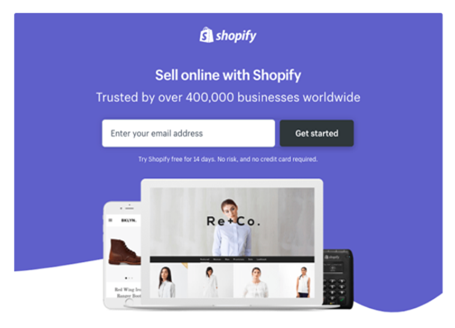 Create a Valuable AND FREE Lead Magnet
Remember, gifts compel people to act – and adding a CTA to your landing page without any freebie or offer may hardly register any action.
Whether it is a webinar or an e-book filled with valuable tips, the promise of free and helpful information is perfect for luring users into clicking those CTA buttons. For example, if you are a digital marketing company, you can share a simple report or an email course on basic SEO and digital marketing practices in exchange of visitors' contact information to build your email list swiftly.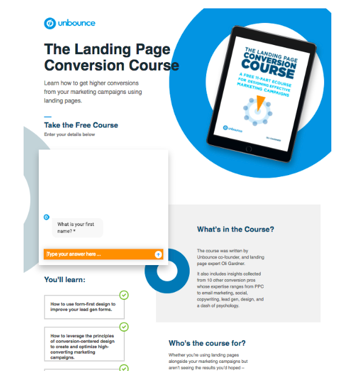 Keep Testing the Performance of Your Landing Pages
Humans are moody by nature. What they like today will be boring or mundane tomorrow. Therefore, designing an attractive landing page is not adequate to drive conversions in the long run. What you need to do is test the performance of your landing pages regularly to know whether they are working or not and if any changes are required. 
By using a tool like Unbounce, you can A/B test different versions of the same landing page to find the one that leads to maximum conversions. We suggest that you start by testing different headlines, pricing, and your offer to optimize your landing pages as soon as possible.
Conclusion
Landing pages have become a vital part of every marketing strategy. However, to drive results, it is essential to design highly specific and aesthetic landing pages that not only attract users but also motivate them to take action. 
By following simple yet powerful practices, such as writing simple copies, using a clutter-free design, writing impactful headlines and actionable CTAs, introducing live chat, offering freebies in return of the desired action, and testing, you can create high-converting landing pages that will take your business soaring ahead of the competition.
Is there a specific strategy that you follow to drive conversions on your landing pages? Share your secret with us in the comments section below. We'd be delighted to hear from you.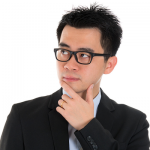 Authors' Bio: Sam Makad is an experienced writer and marketing consultant. His expertise lies on marketing and advertising. He helps small & medium enterprises to grow their business and overall ROI. Reach out to Sam Makad on Twitter or LinkedIn
---